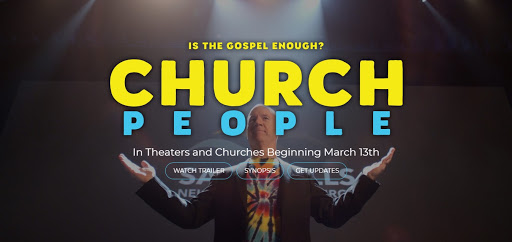 By Jacob Sahms
Talking with comedian Thor Ramsey and director Christopher Shaw is a whirlwind of kinetic energy, theology, laughter, and wisdom. Together, they've taken an idea, then a script, and then a film trailer, and turned them into the feature-length comedy/romance/drama/satire that is the laugh out loud funny Church People.
Ramsey wanted to make a Christian version of Swingers, a low-budget comedy that would entertain, and speak to people, as he watched Jon Favreau's early work (long before the Avengers or the Mandalorian). For two hundred thousand dollars, Favreau, Vince Vaughn, and Ron Livingston created comedy magic on screen, and Ramsey wanted to do the same, so he wrote the first of thirtysome drafts of the script in 1996 that would become Church People.
Meanwhile, Shaw was getting extra work on shows like The Practice, where he would meet Michael Monks, the actor who would later play Pastor Skip in their movie. But in 2009, he started friending people on social media, comedians like Ramsey who he admired from the series Bananas and others through the Thou Shalt Laugh series. Ramsey's script was called Youth Group, and he was working with Sony's faith division, while Shaw was videorecording bachelor conversations with his… goldfish.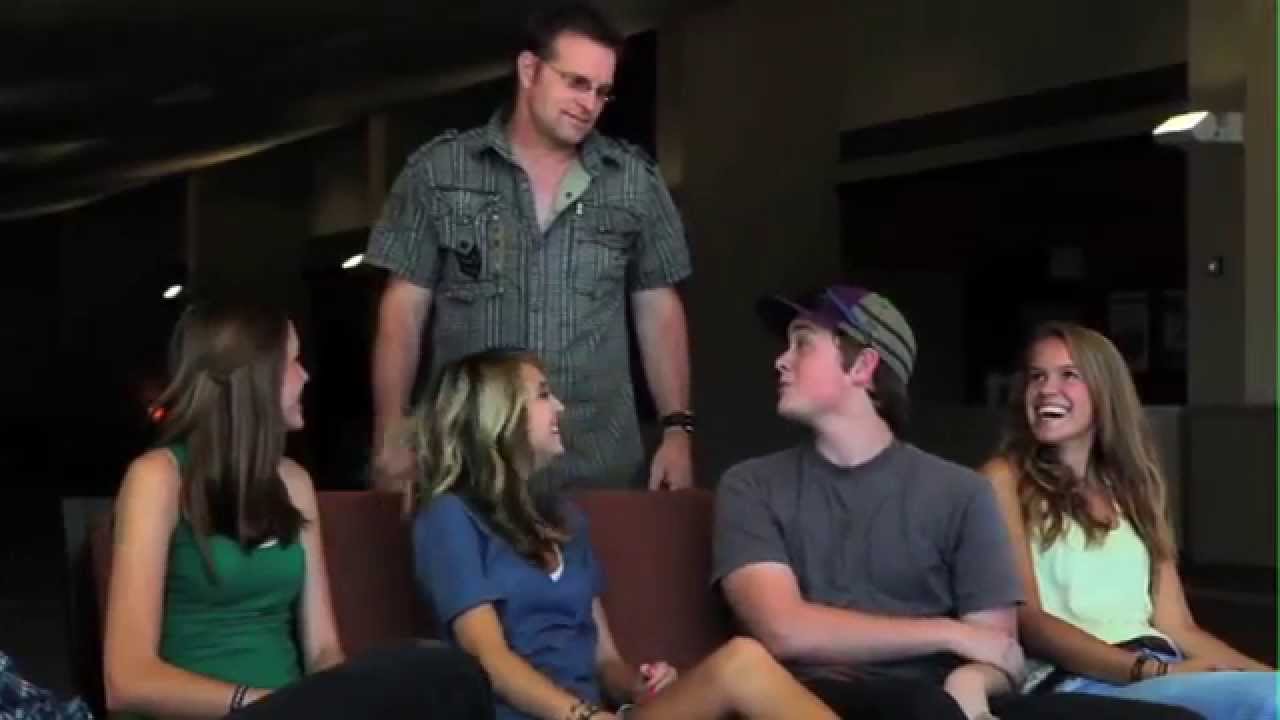 In 2010, the comedian and the director joined forces to make the short film Skip Listening about a radio host who is so stuck on himself that he doesn't realize one of his coworkers is deaf. They made the trailer for Youth Group, with Monks as Pastor Skip and Ramsey as Guy Sides, and Shaw tweeted their "proof of concept" video to everyone from youth pastors he knew to Jimmy Fallon. One of those youth workers thought the film was actually available feature-length and asked if it could premiere at their next conference. Oops! But Stephen Baldwin, who'd seen the trailer in late 2012, became a force behind the film's funding after an in-person meeting 2013.
Finally funded in 2016, the film came together over twenty days. Ramsey says he found new respect for actors, because the whole process was harder than he realized. "I came from the mentality that you can either act or you can't. I found there are techniques in acting – people are either funny or they're not, but taking it onstage to do stand-up, that's a craft. If people are funny in daily life, they still have to learn the craft. If you have dramatic flair, you can act, but to do it well, that's a craft."
Both Ramsey and Shaw speak highly of Michael Monks' impact on them and on the final product. He became Ramsey's acting coach, and on screen foil, the earnest but oblivious senior pastor who can't see that his ministry is chasing relevance rather than faithfulness. But Monks did teach Ramsey how to act, he says, especially when it came to crying on screen after investors said the film needed more drama. "I almost feel like they had the scene in there where I had to cry," Ramsey mused. "There's no crying in comedy! It's like the old Tom Hanks thing from A League of Their Own. But Michael was really really helpful. He asked me, 'Who is your Gretchen in real life?' [Ramsey's character finds out he has a connection to a teenager he didn't know existed.] Grabbing from an emotional aspect from your own life. It was grueling.I liked it, but personally it's hard to watch yourself once you know about the role."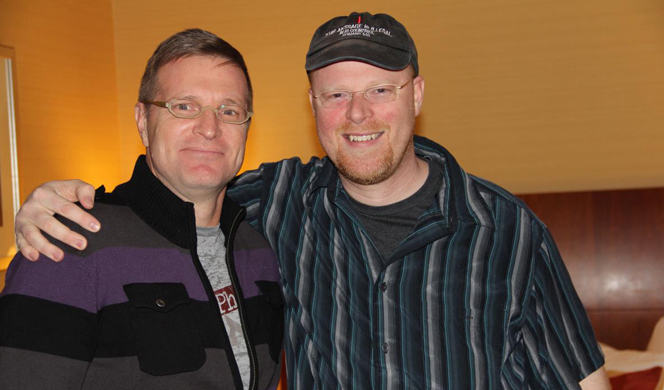 The director and his lead worked to keep the film funny, focusing on who they were and what they knew the film needed to be.  "It's not easy making a movie and a lot of talented people made sure that we kept the comedy a comedy," admitted Ramsey.
"A shout out to William Baldwin and Chynna Phillips," interjected Shaw. "They're not known for doing comedic pieces but they nailed it in that scene. Clancey McCartney, Donald Faison kept it funny."
The two debated who had a big enough budget and absolute control, settling on Woody Allen as the only one, because he'd had the foresight to write it into his first contract. But the reality is that these two weren't just aiming for a perfect film or hours of laughs, they had things to lovingly say about church and church people.
"I say that is a Christian film; it comes from a Christian worldview," Ramsey said, settling into the thicker elements of the project. "I'm not against the subculture. Christians get accused of making bad films. Secular films aren't all good. It's a specific worldview for us that speaks the truth. They don't all have to be great, but you can't get away from living in God's world the way he created it. We just happened to make a film about the Christian subculture."
"You can only satirize something you love. I can name some movies that satirized the church, but it's not because they loved Jesus – they know who they are. We love the church, we love Jesus, we love the Gospel – that's where it comes from, it's its heart. When the movie was screened to some megachurch pastors, they felt offended like 'They were making fun of us.' If you're doing these things, don't you know you need to be satirized? As Christians, we should always want to default toward 'Is it true?' It's redemptive, even though we kind of spoofed and put the mirror toward ourselves."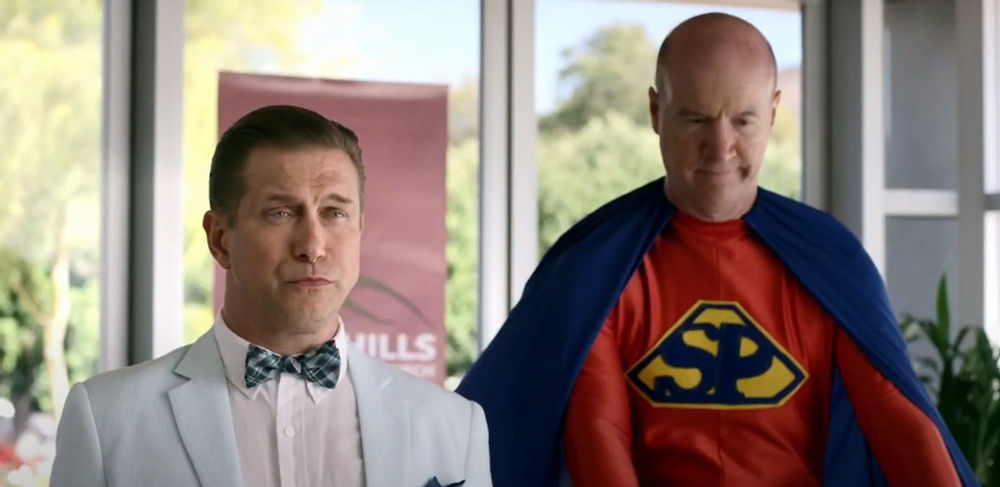 Shaw says that since they started making any films together, that he and Ramsey have focused on having fun while making art. He says it was easy to wrangle the loquacious comedian and the rest of his cast because they were consummate professionals, but any time it might be getting stressful or tense, someone would yell "Fun!" to restore order.
The two have a comfort level that balances the highly intense Ramsey and the laid back Shaw, but they weren't "just" having fun. They're asking audiences to consider what they know about church, what they believe about God, and what they're willing to do about it, whether they're professionals working at church or Christians with other aspects of their lives to live. It comes down to, 'what are each of us called to be?'
"When I became a Christian, I felt called to ministry right away. There's an internal calling and an external confirmation," explained Ramsey. "If you say you're called and other people say, 'I don't know,' well, you're probably not called."
The comedian was doing secular standup, but also volunteering to share laughs through Chuck Colson Prison Ministries, and the musician Larry Howard put Ramsey in a position to preach. "As my career grew up as a standup, I still felt called to ministry but someone told Chris the other day that I should just be doing stand-up. I don't think they are mutually exclusive. To be called to ministry, do standup, write a screenplay… you can do it all. The things the arts lack are theological grounding. The arts tend to liberalize, academia attends to liberalize. They tend to liberalize theologically. The artist needs a good theological grounding that's significant artistic and theologically.. A lot of the foundation for the movie is the book by David Wells, The Courage to Be Protestant, that deals with the issue of the church trying to be so relevant that it makes itself irrelevant."
Shaw always wanted to be involved in the film business, but after studying acting at Otterbein College, he gradually felt called behind the camera. "I sensed my heart changing, getting to collaborate with hilarious people like Thor," he said. "I love watching behind the scenes, even if I didn't like the film. I love the creative aspect of it."
Together, the two have assembled a team not of Avengers, but of funny, deep, faithful people to tell a story that transcends individual experiences and shares some truths about God and about us. Is it satire? Yes. Is it loving? Yes. Does it still need your help – yes, you reading this right now? Yes. Because if faithful people don't laugh and think and dive into this film, then some people will never hear about it. And that would be a shame.
So go watch Skip Listening on Youtube, and then visit https://churchpeoplefilm.com/ to find out more and see how you can spread the word. It beats talking to your goldfish… or yourself.