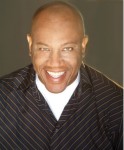 "I'm six-five, two-seventy-five," Tommy 'Tiny' Lister told me in a recent interview with The Dove Foundation. His height and weight aside, Tiny Lister comes across as a man with a big heart, as he spoke of his commitment as a Christian, and his role as "Hagai," in the new Gener8xion Entertainment release of "One Night with the King," which also stars John Noble, John Rhys-Davies, Omar Sharif, Luke Goss, and newcomer Tiffany Dupont as "Queen Esther."
Tiny worked with handicapped kids as part of his scholarship in college and he was given the nickname which he is still known by to this day. "I like the name 'Tiny' because there's nothing macho about the name 'Tiny,' it can't be a prideful or arrogant name."
We asked Tiny what appealed to him about his role as Hagai. "Before I even got the part I prayed to God, actually cried out to God when He gave me the role in 'The Fifth Element (He played President Lindberg).' And I cried out to Christ and said, 'God, you know, since you did that (blessed him with the part), I'm out here serving, going around to kids who are hurting themselves, around the country. Can you do it again?' And all you have to do is pray, and all of a sudden I found myself going to lunch with Matt Crouch (Paul and Jan Crouch's son). Matt was going to buy me lunch! And all of a sudden he said, 'I want you to play Hagai in my new movie,' and he caught me off guard. It disturbed my spirit and God said, 'If you seek me first and be about my business, I'll surely be about yours.' It's definitely the role Jesus Christ gave me. John Noble called me and said, 'Tiny, I saw the movie. You're performance is a stand-out performance in the film.'
Tiny went on to praise Noble, who plays Prince Admantha in the film, saying, "He's very secure in himself (as an actor). I got to see him yesterday at church and it's just awesome to be around a person that works in Hollywood like him. John Noble—he's a giver, he's not a taker," said Tiny. "All he's thinking about is making a phone call to somebody." Tiny, in his excitement, reiterated, "He told me, 'You've got the performance of the film'– a man like that!"
"Matt Crouch saw me the way Christ saw me," Tiny continued, speaking of the producer of the film. "That's the word in my spirit. God allowed Matt Crouch see me the way God sees me. And I didn't know I could do something like this. God is getting the glory. I knew I could act but I didn't know I could act at this level." He is obviously pleased in acting in a Biblical epic such as this.
In addition, his excitement oozed over about another Biblical project he is involved in. "It's unbelievable," he said. "I'm also in 'The Bible Experience,' which is coming out tomorrow. I'm very blessed. I've got two Christian projects coming out, 'One Night with the King', and 'The Bible Experience,' the New Testament produced by Rodney Reed, which is an Audio-CD presentation. Some remarkable names read scripture in the production and Tiny rolled them off his lips: "We've got Denzel Washington, Blair Underwood, Samuel L. Jackson, Angela Bassett, and Cuba Gooding Jr."
Tiny said he had asked God to give him the same kind of actors to work with as he did in the past, of the quality of Marlon Brando, Faye Dunaway, and Johnny Depp. With the names in this film, "One Night with the King," Tiny believes that prayer has been answered. "Omar Sharif, John Rhys-Davies, and John Noble and Peter O' Toole?" he asks almost in disbelief. "I challenged God and He answered the challenge," said Tiny. Tiny speaks reverently but very much like someone who is close friends with God. "He can do exceedingly abundantly more than you can think of!" he said.
There are two scenes in the film that Tiny is particularly proud of and considers his favorites. "There's the scene where she (Esther) goes unannounced to the king," he said. "Because I'm a eunuch, she's like my daughter. It's like what God gave me because a eunuch doesn't have a family. So for her to go unannounced– that was a major point. I felt the Spirit in it when we did that scene, and the scene where we are walking late at night and I didn't have the courage to tell her I love her. And she asks me why I didn't have the courage to go back—those two scenes stick out in my mind"
"When I did 'The Fifth Element,' it was a big studio film. This is a big God film!" he said. "And God will get the glory. Every company will set up a division in their company…like FoxFaith is set up, and every studio will have a major Christian division." Tiny can't be accused of having a small vision.
"This just shows you how unusual Matt Crouch really is," Tiny continued. "He's an outcast. I'm actually blind in one eye and Matt tells me he's blind in one eye and so they made the character blind in one eye in the film. God is calling him (Matt) to take over the airways. He's Matthew 11:12—the kingdom suffers violence and God is sending him to be John the Baptist in this season and to take it by force in Jesus' name!"
This writer complimented Tiny on his facial expressions in the film as he does a terrific job and he replied, "I've done like ninety five to maybe a hundred films already in my career," he said, "I haven't seen it up close yet—I'm looking for the tear drencher scene—'cause I haven't seen it yet on a thirty by sixty-foot screen you can see all the details. I get to see it tomorrow night," he said enthusiastically.
We turned the topic to the challenges of making this film and Tiny said, "I've shot films all over the world. I've been to Thailand a couple of times and Mexico and I've shot in London about three times. In India—the diet was hard for us. We were sick the whole time we were there—the American crew. Steve Bernstein (fellow actor) told us, 'When you look back on this film, when it's all done and all put together you will cherish the moment of what we're going through right now. But it was all through the palace—it was just the diet, it was disruptive. We kept getting sick all the time, but the people were very nice to us. For a black kid who grew up in Compton (California), to be shooting a film in a PALACE? I grew up in a basement and now I'm hanging out in a penthouse! Only God can do that," he marveled.
He also realizes how far God has brought him as he mentioned another blessing in his life. "Bishop Bloomer and I have a book coming out in 2007—we're telling it like it is." He is hoping that book, along with this film, will help kids and prevent them from using drugs and committing suicide. He speaks to kids all over the country he said.
"I told the Lord 'I have been about your business. Can you be about mine?' And look what He has done!" His total dedication to Christ is evident throughout the interview we conducted with him. His passion for kids is obvious as he added that he goes to areas no one else will go to talk to kids and many times he goes without protection, "but the blood of Jesus protects me," he said.
He talks excitedly about the film and says, "If God can do what he did for an orphan girl (Esther), what can He do for you?" Speaking of the orphan girl, we asked Tiny to talk about Tiffany Dupont, who plays Queen Esther in the film. "People tell me a different thing happens when we're in our scenes together. There's a father/daughter relationship or a big brother/little sister relationship going on the whole time. I opened up to Tiffany and she opened up to me and I got to know her character—Esther. Our relationship is so profound. It's a different relationship when you look at Tiffany and me  than when you look at Luke and me."  He's speaking about Luke Goss, who plays King Xerxes.  "Luke and I are real good friends because of this film but Tiffany's and my relationship is that we became best friends, on and off camera! When you see Esther's role and Hagai's role, it's very magical. I've had people tell me, 'When you see you and Esther together, it's a warm feeling.'"
Tiny got his start in acting after working in nightclubs, attempting to play professional football, and enjoying being a soccer champion in college. "I didn't want to work from nine to five," he said. "I wanted to do something different." One of his first big breaks came from appearing with David Caruso in the 1986 film "Blue City." His credits list has swelled considerably since then as he has appeared in many films. He is thrilled that he is now able to pick and choose more and he said he hopes to land more roles like the one he played in "One Night with the King." He said he had "played the thug roles as much as I can play them and I'll play some more of them when the right one comes up." It is obvious that his radar will be on more Biblical films should they come up.
Tiny's future seems bright as he will be appearing in a video game, showing up in the aforementioned "The Bible Experience," and in a music video as well as his own TV show on Court TV. The premise is when things get out of hand, call Tiny at 9-1-1 and he will come and clean everything up! We asked him if he found some time to rest and he said, "I'll go on vacation and sleep when my career is over!" Tiny Lister isn't a small person. He's got a big heart and his passion for Christ seems to point to impossible possibilities.
---