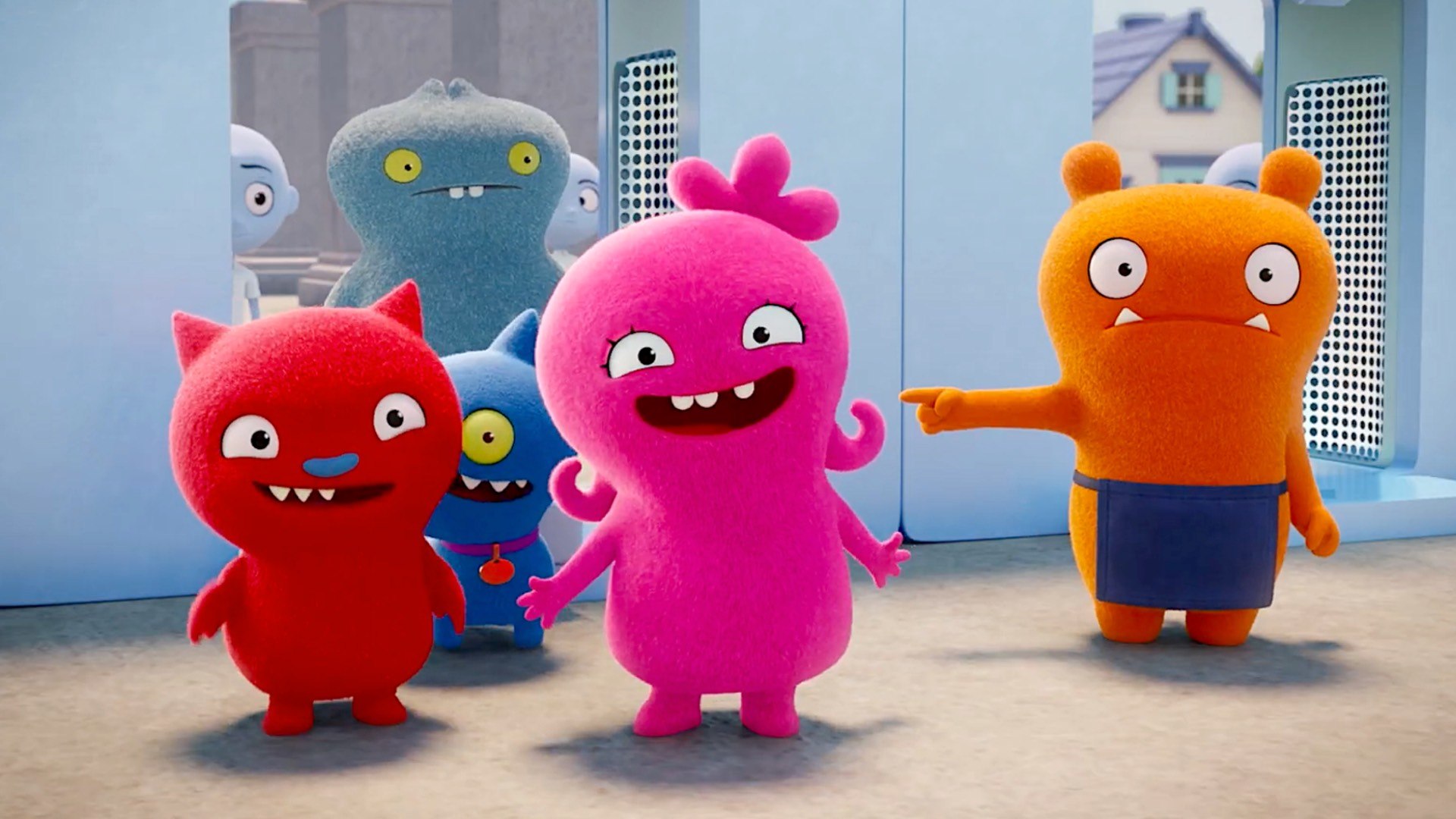 By Jacob Sahms
Before David Horvath and Sun-min Kim were husband and wife, their impending separation due to a student visa caused the creation of Uglydoll, the early twenty-first century line of plush stuffed animals. "Ugly" in their vernacular meant special or unique, the opposite of what the word means to the average English-speaking person. As the line of toys has grown, winning awards like Special Toy of of the Year (2006) from the Toy Industry Association, it follows other creative hits into its next iteration: the movie theater.
UglyDolls stars the voices (and music) of Kelly Clarkson, Janelle Monáe, Nick Jonas, Blake Shelton, and Pitbull, as a group of Uglydolls led by Moxy (Clarkson) venture out of Uglyville to the town of Perfection. There, the Uglydolls discover that Lou (Jonas) is preparing dolls to be sent out into the real world where they'll be placed with a child, but ultimately recognize that perfection isn't all it's cracked up to be when Moxy helps the lonely (but perfect) doll, Mandy (Monáe). Told through story and song, the film has its director to thank for making the internal monologues musical in nature, allowing for more feeling and … tunes!
Under the watchful eye of director Kelly Asbury (Smurfs: The Lost Village, Gnomeo & Juliet, Shrek 2), the film tackles some big picture emotions and issues while allowing for laughs and visual delight. Asbury's previous work shows a sense of humor and creativity, but a knack for encouraging young (and old) fans to love themselves and others better.
"A lot of people go through life trying to be perfect but perfection is unattainable," Asbury said. "Give yourself a break, and instead try to be the best you can."
The world of Uglyville allows Asbury to flip things on their head, because until the dolls leave, they have no reason to think that there's anyone who wouldn't believe ugly is beautiful. Leaving home and arriving in Perfection, Asbury explained, can be like a young person arriving at a new school, or anyone trying to figure out who they are in a new situation.
"Sometimes, what we see in the mirror isn't really the important part. It's what is there behind the facade," he proposed. "Moxy has the strength to believe in herself, not in the rules that others make for her."
"I've been an UglyDoll many times."
When he was seven years old, Asbury remembers being bullied at school and going home to a wise conversation with his father. "It was typical schoolyard politics," he remembers.
Asbury's father asked if he really wanted to hang out with the boys he was trying so hard to fit in with, noting that they didn't behave the way that Asbury normally did. Acknowledging the difference, Asbury was able to stop worrying about how they felt about him. When he stopped trying so hard to be accepted, the boys ended up befriending him.
"We need to get younger people to realize that they don't need to fulfill someone else's version of what is right for them. That their version of themselves is who they need to be. I think UglyDolls will show them that's possible."
For music, laughs, animation, and a little inspiration, too, head to theaters this weekend.