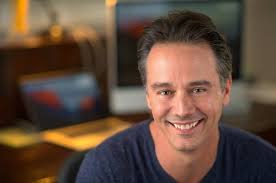 By Jacob Sahms
This is the story of a group of talking vegetables, and the story of the fear of failure.
Mike Nawrocki, co-creator of VeggieTales and currently a professor of screenwriting at Lipscomb University, has an innate fear of stinking. But to understand that fear, it helps to know where Nawrocki has come from and the way that God has used his talents to bless so many others.
The professor, and voice of Larry the Cucumber, grew up loving Sesame Street and The Muppets. Nawrocki joined his church's puppetry ministry as a teenager and then met his longtime collaborator Phil Vischer at St. Paul Bible College. While Nawrocki was aimed at pre-med, expecting to spend a career as a missionary doctor, he found himself working alongside his friend at Renaissance Video, learning about computer programmed animation. When their conversations turned toward telling Bible stories and principles through animated characters, they knew they needed something simple.
Vischer put eyes on a candy bar; his wife Lisa pointed out that mothers would probably prefer something healthier, and suddenly Larry the Cucumber and Bob the Tomato entered the picture. Aiming, they thought ambitiously, for a half-hour show in 1993, they soon found that there was an audience that would soon devour their thirty-minute, fifty-minute, and feature-length stories. Even now, spoofed on Saturday Night Live, The Simpsons, and more recently, Rick & Morty, VeggieTales has lasted through decades of changes in entertainment.
"It's humbling that God is still using it today," Nawrocki says. "I run into students on the college level who share how much VeggieTales has meant to them."
Nawrocki continues to teach screenwriting for animators, mentoring students and watching them grow. He continues to strive to do things well, teaching those lessons to others. Like everything he's tackled, he says that hard work must be put into whatever you set your mind and heart out to do. "It's a craft you have to work at. Animation has its benefits because you storyboard it and get it on reels, add a temp audio track and edit the story together. You realize something needs reworked. Animation films lend itself to fix the story before it becomes an expensive mistake. Live action is hard. I have compassion and respect for those making feature films as they work, honing and honing their story."
Working on telling good stories, Nawrocki knows that those stories have to be entertaining enough to capture a viewer's attention given all of the options available. But the VeggieTales brand continues to be one that is definitively Christian, too. ""Since the beginning, VeggieTales has always had a worldview that God is who made us and loves us."
After several years apart, Nawrocki and Vischer are together again, voicing their beloved characters, now on Yippee! Big Idea/NBC Universal have put together twenty-six episodes, once a month for two years. In The VeggieTales Show, Bob and Larry are entrusted with putting together a show each night at a theater, and they'll share lessons about characters traits like humility or the nine fruits of the Spirit.
Listening to Nawrocki, it's clear that he's tackled so many of those fruits of the Spirit, and embraced humility for himself. He speaks freely about the biggest trial of his friendship with Vischer, when they parted ways for years after starting Big Idea together. But now, they're continuing to set an example for children and adults, having come back together to let God use their voices to bring these characters to life againagain. "We have a good friendship that was stressed by business. He's tremendously talented and gifted. We've always maintained a good friendship. It's just so easy. I'm really thankful for him."
In the end, Nawrocki brings it all back around to the place where Veggietales started – with a love of God and a desire to express God-given gifts: "This is not ours; it's God's. We approach it gratefully. Look at what God is doing!"