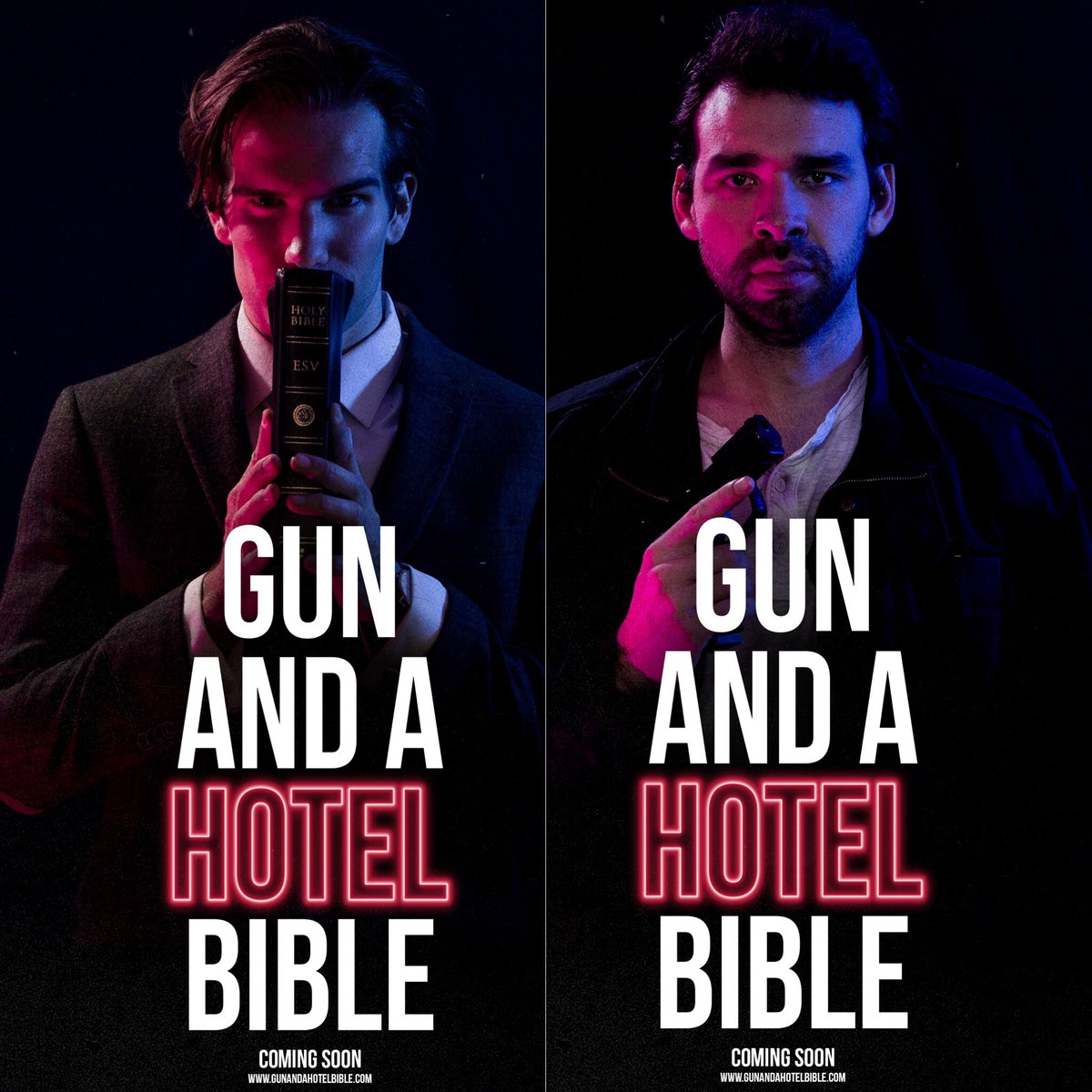 By Jacob Sahms
Bradley Gosnell and Daniel Floren co-wrote the play Gun and a Hotel Bible, telling the story of a desperate man named Pete and the embodiment of the Gideon's Bible ("Gid") that he converses with headed toward a fateful decision. Over time, they looked to the story as a possible film, recruiting Alicia Joy LeBlanc and Raja Gosnell as directors. Sharing their story full of big questions and hopeful answers, the four became filmmakers, drawing on the expertise of the elder Gosnell (Never Been Kissed, The Smurfs, Scooby-Doo) to transfer the idea to the screen.
The younger Gosnell and Floren wrote the play over several months, over the course of emails back and forth, choosing to focus on the questions people have about God's nature, the problem of evil, and how people can draw hope and answers out of the Bible. Their play had a dramatic impact on the audience, regardless of whether the people were churched or unchurched. They had consulted with LeBlanc about the script even before she became the play's director, as they worked to direct a story that was honest and faithful to Scripture.
LeBlanc shared, "That's why I asked to direct it. As far as the story of Pete, we needed to be honest to his questions, to his despair, and we talked about being honest about what the Bible doesn't say or spell out clearly. There are moments when Gideon says, 'I don't know! It's not in there.' A lot of times in these conversations that we want to have, we're uncomfortable with "I don't know" or doubt, but giving Pete the freedom to explore these gut-wrenching questions is so important."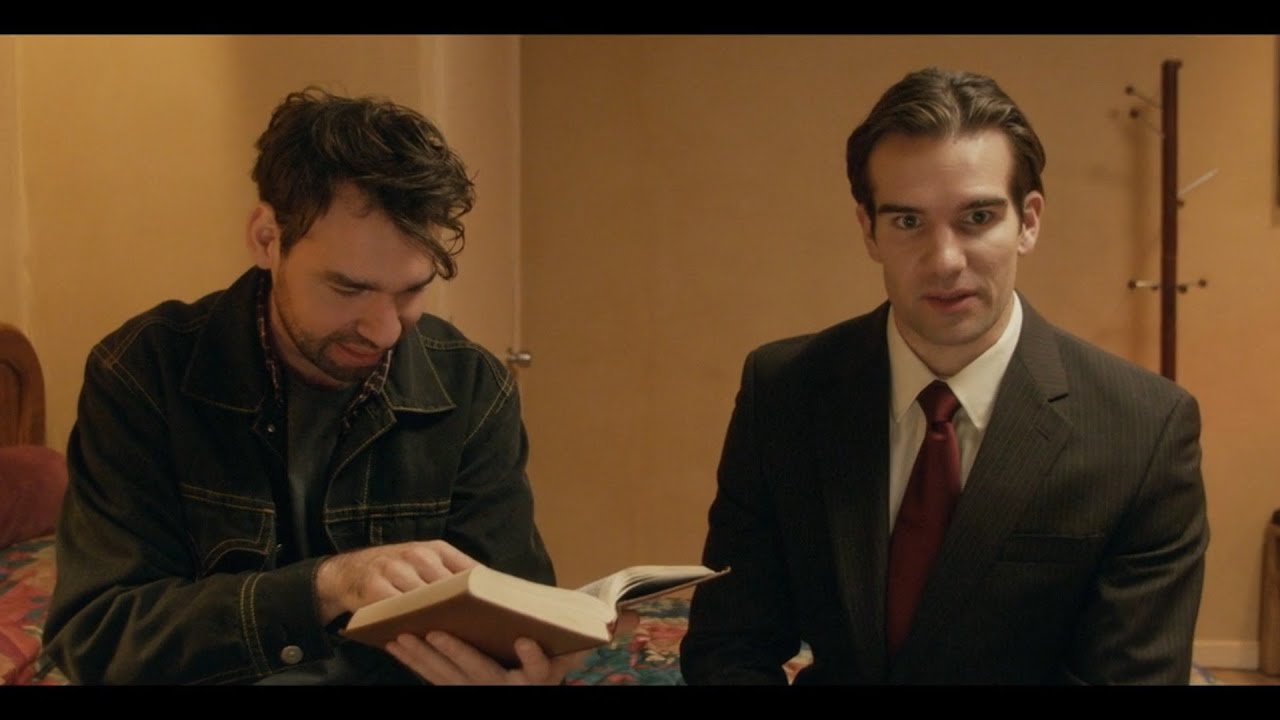 "We criticize but don't ridicule," shared Raja Gosnell. "The fact is that there are many, many people in the world who feel as Pete does. Questioning scripture, feeling abandoned by God, etc. Gun And A Hotel Bible gives a voice to these people, in the form of the character Pete. And for every question or criticism leveled by Pete, Gid has a wonderful, scripture-based response. Without Pete's challenge, we would have no dramatic reason for Gid to share his insight on the subject. That is the give-and-take of good drama, of antagonist and protagonist. And the writers, Bradley and Daniel set out to make it as even handed as possible. I think that best explains how they and we 'found that line'.They set out to make an even-handed, no straw men, hard conversation about faith."
The two directors are clear that the younger Gosnell and Floren have a unique relationship of genuine love and trust for each other that allowed them to craft the back and forth.
"They have a strong respect for each other that makes these conversations possible," explained LeBlanc. "Dan has a high regard for Scripture and he will fight to defend this point of view no matter how the opposing argument pokes holes in it, but they strongly connect with God's love for people that gave them freedom to go to the dark places and have some levity. I love that Gid finds the angel in Ezekiel with a cow face amusing. His personification is so loving and such a joyful creature. You kind of fall in love with the Bible."
Gosnell added that he aided in choreographing the camera, getting shots like when Gid disappears at one spot and pops up behind Pete, in ways that aren't possible on stage. The script they'd already written and acted out under LeBlanc's direction provided the rest. But the fact that the film carries Gosnell's name, as director and longtime film editor (Home Alone, Rookie of the Year, Mrs. Doubtfire, Miracle on 34th Street), provides it a deeper cinematic pedigree.
"It was a delight and honor to work on the movies I've made and edited," admitted Gosnell. "Every movie has had some version of bells and whistles, talking critters, a bigger budget.This is a movie I would've loved to make at any point in my career! This came along and it was like, completely stripped down, two characters in a room talking. It's all about the acting and all about the words. The industry doesn't send these scripts. I had to be related to one of the writers! It was a huge honor that they wanted my help to bring it to the screen."
The two directors' faiths guided them to the project, in addition to family and other influences. For Gosnell, he remembered sitting through sermons and carrying away the message to his life and applying it. But until he saw Bradley's play, he hadn't asked questions like this. "My son Bradley invited me to come see the play. I understood how well conceived it was, and it was amazing, watching him asking the hard questions. I had never asked the hard questions."
LeBlanc credits her mother, as impacting her faith, long before she began telling her own stories. Her mother taught her that her faith was something she needed to develop personally with God. "She encouraged us to challenge what we heard from the multitude of Christian sources we had surrounding us, to check it against the word of God. So we began early on to check what we heard," she explained. "I personally went through a rough time in my teens. I have an anxiety disorder. It was very hard but I asked the hardest questions I was afraid to ask and I let God treat me the truth about Himself. Sometimes the answer was you're not going to get the answers right now, but I learned to have patience in the 'I don't know,' to take joy in the fact that God can explain things to you that you can't understand."
Moving to filmmaking, LeBlanc reflected back on watching the final episode of The Little House on the Prairie and watching the set burn on screen, crafted into the plot to keep anyone from ever using the set again. Years later, she moved to Los Angeles even though she couldn't see herself doing this.
"I just didn't picture that for a long time. God had to really work to get me to accept that one, I could do that, and two, that it was okay to do that because there are a lot of voices in the church that say it's not okay to work in Hollywood. But God definitely called me here. As soon as I arrived, I fell in love with this city, and this work, and realized it was exactly what God wanted me to do."
Now, the longtime filmmaker and the newer director have teamed up to deliver a powerful story that offers up grace to both the believer and the unbeliever, those with certainty and those with questions. Shot in simple fashion in one hotel room, Gun and the Holy Bible delivers an opportunity to look at our faith, and consider how we can open up space for others to do the same.
Gun and a Hotel Bible releases digitally on January 5.