Confession: I admit to approaching the new film "I Can Only Imagine"  like I knew what to expect. OK, let's have it. I like all of these performers and the people behind this film, so let's take a look.
Every scene drew me in. This story is well told. The qualities of the production are high on both sides of the camera, so the message doesn't get disrupted by poor talent. We are brought into Bart Millard's life as they travel the south in a throwback, dorm room / school bus, as he and his bandmates build a career as respectable cover artists. We see the abuse and anger that would be the catalyst for his rebellion and soul searching. As a free adult,  Bart leaves behind his painful youth and his childhood sweetheart. But, as must happen, the past comes back.
As the story progresses, the words that come through Bart's heartbreak took me to a place I could hardly bear. How could this be? The song lyrics express a moment that none of us imagined. The lyrics are about meeting Jesus, right!!? But now we were seeing the story behind the lyrics and suddenly my relationship with my own earthly father was rushing back into view. I wanted to turn away; it was a moment I nearly rejected. I hit the pause button and thought I'd escape before the dagger penetrated deeper.
But I pressed play again and accepted the invitation to experience this journey with Millard, (played artfully by J. Michael Finley).  I let the story sink into my heart and disrupt an old pain—  but now suddenly connected to this song, that beautifully conveys our unspeakable thrill at arriving at the feet of Jesus.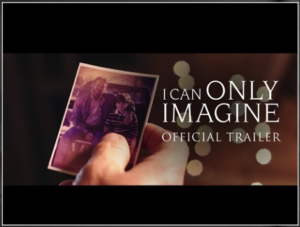 As worship, I love this song as much as I did the first time I heard it. These lyrics drop me to my knees in overwhelming joy. Now the story behind the song makes me experience it in a whole new way.