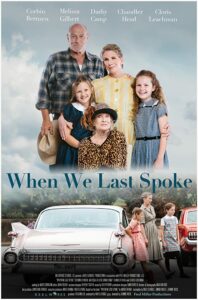 By Jacob Sahms
When We Last Spoke tells the story of sisters Evangeline and Juliet, who are abandoned by their mother while their father is off fighting in the Vietnam War. Based on the novel by Marci Henna, the film provides a sweeping tale of love, redemption, and family, directed by Joanna Hoch, in theaters October 27 and 29. From her home in New Mexico, Henna shared her thoughts on releasing a film in the midst of a pandemic.
"We were fortunate to be completely through with production before the pandemic," she explained. "I wanted to make a film that wasn't toxic or gratuitous, and I always had a vision for turning the story into a film or television show. Not a lot of authors are involved in the filming aspect but I was involved from the very beginning. I was collaborating with the screenwriters and really enjoyed that time. I have been so blessed!"
Henna, who spent a year in Kenya with her parents in the early 1960s, grew up a few miles from her grandparents, and sees them in the story she wrote about the girls. "When their mom decides to pursue her dreams of Broadway, they are dropped off on their grandparents' steps, their father's parents, Ruby and Walt. Fleshing out their story, Henna recalls the power of books and film like A Wrinkle in the Time, The Sound of Music, and To Kill a Mockingbird, and their strong sense of family and morality shine through the film.
Add to the mix Cloris Leachman's Itasca, Walt's mother, and suddenly the family is working through intergenerational issues on multiple fronts. While we see the girls in their later years in the 1990s, the main action takes place in 1967, where the girls fuss and fight, and find themselves nurtured by Walt, Ruby, and Itasca, even if they don't always like it.
"Itasca dresses like Emily Dickinson and quotes her all the time. Dementia always impacted her but she's a woman who is never happy anywhere. She's softened being around the children. She'd been left to herself to raise her boys after her husband died and having given up being a ballerina. Through love and time, the corners were rounded off. So, in the scene that moved me to tears, the two little girls have gotten in trouble, and Ruby is disciplining them. She sends them in to entertain their great grandmother which they don't want to do. She reminisces about dancing and shows them pictures. She can't dance but the girls have the idea to push her around in an office chair, and Ruby walks in to find them all dancing."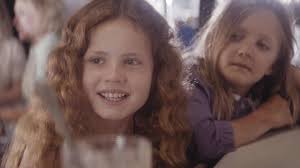 Henna knows from watching others that there were many families during Vietnam, and today, where children were raised by grandparents. Different dynamics, like the grandparents' faith, impact the children, and provide opportunities for families to overcome things that seemed unsurmountable. Henna believes a story like this can impact people, and remind them about what's really important.
"The role of caregiver is hard, but it's powerful," she proposed. "You create the best family situation you can."
Audiences should stay tuned for updates and more information about the film coming in October.