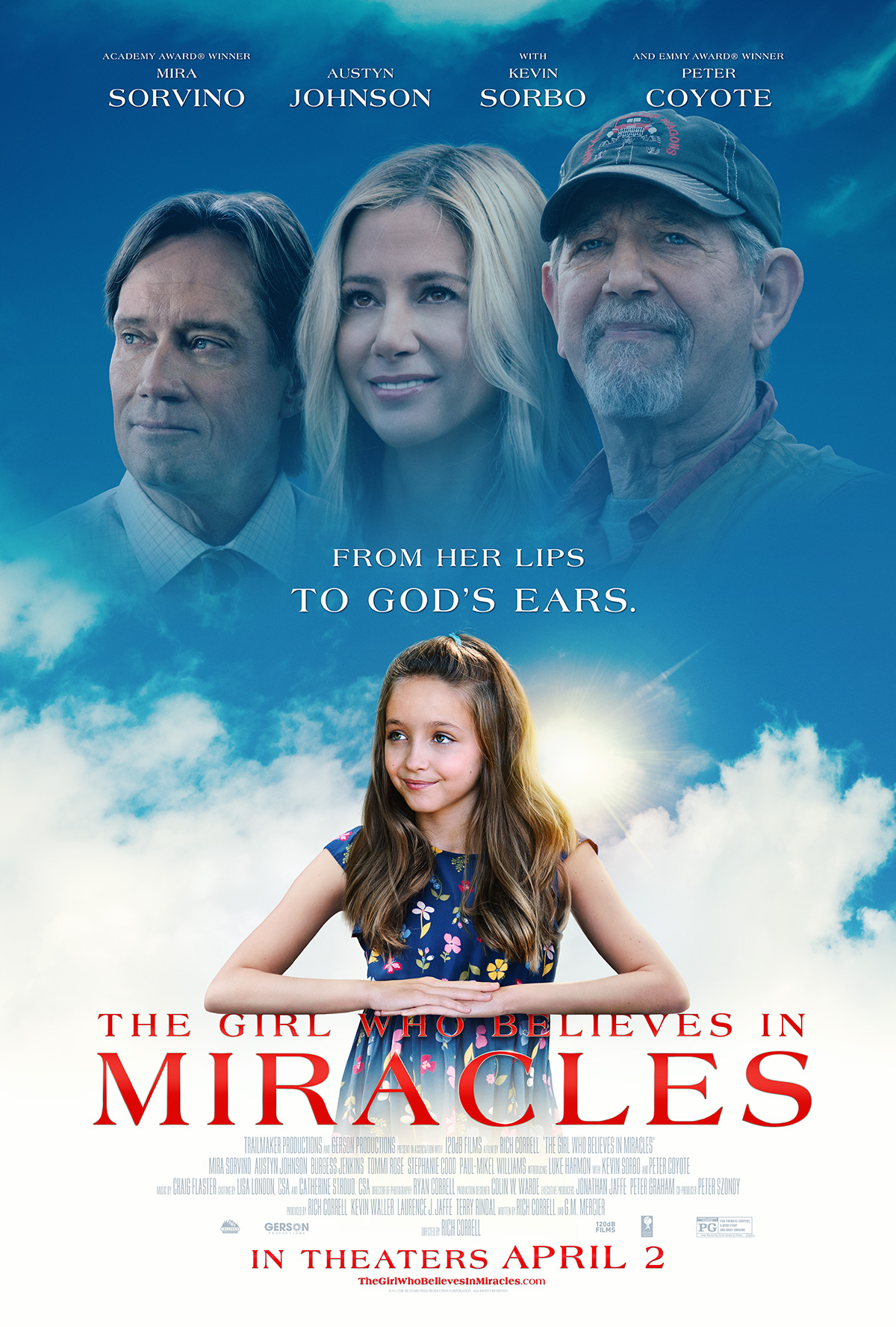 By Jacob Sahms
Larry Jaffe, a ninety-eight-year-old World War II veteran, has produced his first film, The Girl Who Believes in Miracles. It's received a 93% fresh rating on Rotten Tomatoes with audiences, and stars Peter Coyote, Kevin Sorbo, and Mira Sorvino. But Jaffe was committed from the time he and his film partners bought the rights to The Mustard Seed book on which the film is based.
"I'm a man of faith and I believe there's a God who has done wondrous things for us humans. I believe that we should live our lives in a way that reflects God's wonder. I know I have a few less years to live than you do, but I'm not worried about dying. I feel that when I die, I'll enter another experience. It'll be a wondrous beginning. Our movie describes what will be wondrous for so many people who are helped by the little girl."
The producer, whose first film memory is seeing Gone with the Wind in theaters, attributes much of his early development of character to his parents. He says his father's every action was good and kind, and his mother exhibited her goodness through tough love. He believes the film carries the message of empathy through the actions of the little girl (played by Austyn Johnson), who spends her life helping humans and animals. He says, "I am alive because of a miracle so a story about miracles really appeals to me."
Asked to explain this life-giving miracle, Jaffe shares a story about his time in the Marine Corps, as he trained to be an officer at Quantico, in Virginia outside of Washington, DC. "When President Roosevelt died, I was in senior class and they pulled us out," Jaffe explains. "We participated in the service for President Roosevelt in Washington. When that was over, our Master Sergeant said, 'Okay, we're going on a train because we have to go up to his estate, where he's going to be buried.' So they put us on a passenger train for the overnight trip. We were to sleep in our seats, and I didn't sleep very well. So the next morning, they told us to go in and wash up at a local stop. In my sleepy state, I got out and was walking on the wrong side of the track. Something lifted me up and put me on the station platform. Seconds later, the express train came zooming through on the track I had just been standing on. I had faith that there was a God and now I had proof! So it was very natural for me to be attracted to a film about miracles."
From a faith perspective, Jaffe says that the Old and New Testament of the Bible point to how God is in us, and that the Jewish religion shows how people all have a "good and bad drive" in them. "Unfortunately, there are times when the bad drive takes over. Our movie has two plots: one about miracles and one about redemption. In one, it shows how an individual initially with a bad impetus overtook his personality but he's shown how special people with a good influence are. The little girl brings his dog back to life, and he experiences redemption and becomes a good person! It's wonderful to see that transformation. I believe presenting that kind of message is very important. The more people who see it and get a positive reaction from it, the better off we will all be."
Now, audiences everywhere can stream the film on Apple TV, Amazon Prime Video, Fandango Now, Google Play Movies & TV, iScreeningRoom, and Vudu.