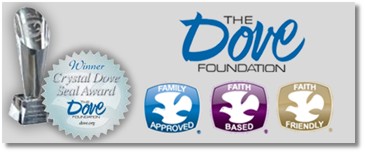 Roll up the red carpet and send the logo-covered backdrop curtains to the cleaners. Tear down the lighting and staging. Return the jewelry, tuxes and haute couture gowns. The parade of the Movie Award Shows has finally come to an end, and the people have spoken…or have they?
With the exception of the Kids/Teens/People's Choice Awards, the "Best of" movie contests are based on Insiders' Choice. In other words, awards are doled out by peers and pundits. It's worth noting that the winning pictures have performed very poorly at the box office**.  The public apparently disagrees with the experts.
The latest awards show was overshadowed by the outcry of some who felt overlooked or even shunned by their peers because they were not among the Chosen. This reflects an insecurity by those who pin their personas on peer acceptance and popularity.
On the other hand, the Crystal Dove Seal Awards were created in response to frequent inquiries about which Dove-approved movies each year are the best-of-the-best. We decided that Dove's friends and supporters are the best qualified to make those choices.
The 2015 Crystal Dove Seal Award winners reflect the tastes of a very special segment of society; people of faith and values who prefer aspirational and inspirational entertainment: stories that elevate rather than denigrate; that inspire instead of insult.
The results are official. The Crystal Dove Seal Awards go to five movies bound together by a common theme; the classic struggle between good and evil, and the consequences or blessings attached to certain choices. Dove provides plenty of information in our comprehensive online reviews.  Be informed. Read the Dove reviews before choosing which movies to watch. We are pleased to present this year's winners.
Best Action – The Hunger Games: Mockingjay Part 2 – Battle for freedom from an evil, corrupt government.  
Best Adventure –Star Wars: The Force Awakens – A classic metaphor for the battle between good (The Force) and evil (The Dark Side).
Best Animated – Inside Out – A clever story showing youngsters how emotions work, and the consequences of letting feelings rule behavior.
Best Drama – War Room – The importance of concentrated, committed prayer in overcoming the forces of darkness.
Best Documentary – Four Blood Moons – A docudrama about the historical, scientific, and religious "signs" that could be pointing us to an important message.
Each recipient of this prestigious award can display the Crystal Dove Seal everywhere the movie is shown or promoted. Now that you know what the best Dove-approved pictures of 2015 are, enjoy!
** Editor's Note. The total opening box office revenues of all 5 Crystal Dove Winners was $550 million, nearly 5 times greater than the sum of all 8 Academy Award Best Picture nominees at $116 million.
---
Here is the list of the films that were nominated