Max Magician and the Legend of the Rings
Theatrical Release:
October 16, 2002
DVD Release:
December 3, 2002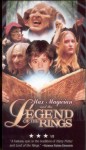 Synopsis
Max Magician and the Legend of the Rings is a magical tale about young Max, a shy, bullied boy. His life is forever changes when he receives an ancient magical book that opens a mystical door into an enchanted kingdom where an adventure filled with warriors, elves, queens and sorcerers awaits.
Once the Young magician learns that an evil underworld king threatens the beautiful forest realm, Max must summon the courage and knowledge to help them survive.
This is a magical adventure to a world where people and forests are one, kings and queens still rule, animals talk and mysterious villains haunt the shadows. In his journey, Max is transformed from a timid weakling to a skilled warrior and master of socery, returning to his own world with more confidence and wisdom than ever imagined.
Dove Review
This film does a good job in its character development, story line and music. Max is called on to save the forest people from the grip of a power hungry king. He finds himself in a mystical land that is occupied by elves, ogars, and talking animals. Here he learns the importance of believing in himself and what he can achieve if he really sets his mind to it. Unfortunately, our hero finds himself embracing magic and an ancient book of spells and socery. He uses this magic and spell casting to solve all the problems he encounters and thinks nothing of it. In an otherwise good low budget, well produced film, the magic and strong occult content, ruins Max Magician and the Legend of the Rings for us and consequently cannot ring true as a family film.
Content Description
Crude Language: None.Obscene Language: None.Profanity: NoneViolence: Some. Many fight scenes where people are hit with clubs and staffs. Man has ax thrown into back. Troll kills man.Sexual Content: None.Nudity: None.Drugs: None.Occult: Magic, spell casting by main character. Although Max is presented as a "good wizard" using his magic to save the forest people, he still is heavily using the occult. Many new age references as well.
Info
Company:
UAV Entertainment
Industry Rating:
Not Rated