Shark Night 3D
Theatrical Release:
September 2, 2011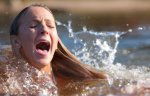 Synopsis
A sexy summer weekend turns into a blood-soaked nightmare for a group of college students trapped on an island surrounded by voracious underwater predators in Shark Night 3D, a terrifying thrill ride from director David Ellis (The Final Destination, Snakes On a Plane), featuring a red-hot young cast including Sara Paxton (Superhero Movie, Last House on the Left), Dustin Milligan ("90210," Slither), Chris Carmack ("The O.C."), Joel David Moore (Avatar), Chris Zylka (The Amazing Spider Man) and Katharine McPhee (The House Bunny). Arriving by boat at her family's Louisiana lake island cabin, Sara (Sara Paxton) and her friends quickly strip down to their swimsuits for a weekend of fun in the sun. But when star football player Malik (Sinqua Walls) stumbles from the salt-water lake with his arm torn off, the party mood quickly evaporates.
Dove Review
Wow! This movie starts off with several college friends heading out to their friend Sarah's hide-out, a lake house where they envision water skiing and partying the weekend away. I say "wow" because the movie slowly but surely becomes more and more grounded in fantasy rather than reality. After a main character loses an arm to a shark, one of Sarah's friends, Nick, who happens to like her, runs back and jumps into the water and retrieves the missing arm. But as a few more casualties take place the sharks start doing all kinds of impressive acrobatics. One fellow is even eaten by one as the shark leaps up from the water to devour the man with jaws and teeth that looked 50 feet tall. The ski-doo becomes a casualty right along with the man.
This movie starts off with believability and then soon becomes a showcase for the 3D effects. That's too bad. On top of this, we have the use of strong language, rear male nudity and sexual innuendos, and lots of blood in this violent picture. If you'll pardon the expression, this one "jumps the shark" not far into the film. You can find a better movie than this to watch with your family. We can't award our Dove "Family-Approved" Seal to this one.
Info
Company:
Relativity Media
Writer:
Will Hayes & Jesse Studenberg
Reviewer:
Edwin L. Carpenter