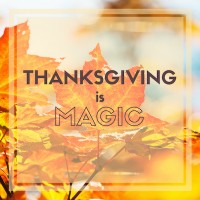 I know that everyone and their sister is blogging about Thanksgiving this week. But I couldn't resist. Being purposeful about living life and parenting my kids is something I'm passionate about.
And yes, I know today isn't Thanksgiving, but I'm betting most of you would be in a turkey-induced coma if I waited until Thursday. . .I promise you'll live through my jumping the gun.
Over the last few years, I've come to realize that when I purposefully look, I see more good things, and then I'm more thankful, and then I see more good. . . . It's a delicious, magical cycle of goodness. Can you tell I'm a little addicted?
Science is catching up to what people of faith have known for centuries:
Thanksgiving is magic!
Don't believe me? Check out this article in Forbes.
So it breaks my heart when I see ads that end in Happy ThanksGETTING. Perhaps if we were a little less concerned about what we were getting and more purposeful in counting our blessings, we might find a little better sleep, more contentment, and have a few less videos of crazy parents attacking each other at the local supercenter.
Maybe you and I can purpose together and razzle-dazzle the world with our contended Thanksgiving . . . and get just a little more sleep in the process.
I'll begin. Today, I'm thankful for . . .
The soft pink glow of sunsets
Birds hopping around on my feeder
Charlie Brown's Thanksgiving movie (and the bowl of popcorn I share with my kids)
The pattern water drops make in my sink
My crazy dog herding the kids on the way home from the bus . . .
See…Magic. Now it's your turn. And if you're interested in finding more beauty, come hang out with me over here.
Comments? Questions? Leave them here. We'd love to hear from you.
Don't miss a single Dove Parenting Blog. Subscribe to the Dove Foundation feed or monthly newsletter.