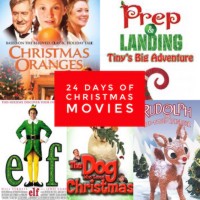 I have a confession to make. I love Christmas. The music, lights, cookies, decorations, everyone looking out for others, and family get-togethers. I love every minute of it.
Maybe that's why I like the holiday movies so much. They combine everything I love about the season: Beautiful music, lights, decorations, and an excuse to sit down with family and a big bowl of popcorn.
Sound good? Here are just a few of movies you might enjoy with your family.
As always, be sure to read the reviews to ensure the film is appropriate for you and your kids. You can find any movie marked with a * on the Dove Channel, a Netflix like service with screened content.
1. The Christmas Clause*
A stressed out lawyer and mother of three has her yuletide wish come true when she wishes to see what her life would be like if she had chosen to pursue a career in law rather than marrying and becoming a working mother in this Christmas fantasy.
2. Hermie and Friends: A Fruitcake Christmas
It's Christmastime in the garden and Hermie and his friends are hustling and bustling to prepare for the big day. But a pair of selfish bugs try to steal Grannypillar's scrumptious fruitcake. How will Christmas survive?
3. Dr. Seuss How the Grinch Stole Christmas (both versions)
The Grinch resides in his cave high atop Mt. Crumpit with his dog Max, and plenty of castor oil and sour milk for sustenance. Annoyed by the out-of-control Christmas festivities in Whoville, the Grinch conspires to deprive the Whos of their favorite holiday, but comes to learn that the spirit of Christmas goes much deeper than tinsel and toys.
4. Frosty The Snowman
This charming, animated special is an American Classic. When Frosty The Snowman is accidentally brought to life, he must weather a storm of adventures and the dastardly plans of an evil magician before he can find safety and happiness at the North Pole.
5. Christmas Oranges*
Experience the journey of Rose, an orphan who teaches hope to all those around her in this poignant Christmas based on a classic holiday tale.
6. A Charlie Brown Christmas
At first the gang makes fun of Charlie for choosing such an ugly tree for the holiday, but a timely assist from Linus makes the true message of the season come shining through. Everyone realizes in the end that a little affection can make all the difference in the world…even to a tree.
7. The Dog Who Saved Christmas
The Bannister family's new addition, Zeus, a former K-9 police hero, appears to be less than the dependable guard dog the family needs. However, when two burglars set out to break into the Bannister's home while they're away for Christmas, Zeus seizes the chance to be a hero, proving every dog—even this one—has his day.
8. Chilly Christmas*
When he discovers his father is being transferred from Sunshine Beach to New York City, a boy has one week to turn his reckless beach dog into a civilized indoor dog, while fending off dangerous dog-nappers on Christmas eve.
9. Sesame Street: Elmo Saves Christmas
Can there be such a thing as too much Christmas? Elmo and his new friend Lightning the Reindeer discover why Christmas is best kept to one day a year in this holiday classic!
10. The Dog Who Saved Christmas Vacation
The Bannister family – including former K-9 police hero Zeus—is back, and this time they're spending their holidays at a beautiful Rocky Mountain resort. But toss in an unexpected visit from smug Uncle Randy, his poodle Bella and a familiar pair of bumbling jewel thieves and this holiday may be headed downhill fast! Can Zeus solve the crime, have Bella and hit the slopes, all in time for Christmas Day?
11. Christmas is Here Again*
An orphan and her friends try to stop the evil Krad from destroying Christmas in this animated comedy featuring the voices of Kathy Bates, Andy Griffith, and Jay Leno.
12. The Santa Clause 2
Scott Calvin, a divorced father, took over the duties of Santa Claus at the North Pole and for eight years things have run smoothly. But trouble appears when his son Charlie, living with his mother and step-father back in Scott's hometown, is misbehaving in school and lands on Santa's "naughty" list. Not only that, but Scott also seems to be loosing some of his Santa magic. There is a new clause, the Mrs. Clause, which states that if he doesn't marry by Christmas Eve, he'll stop being Santa forever.
13. The Search for Santa Paws
When Santa and his new best friend, Paws, discover that the boys and girls of the world have lost the spirit of the season, they take a trip to New York City. But after Santa loses his memory, it's up to Paws, a faithful orphan named Quinn, her new friend Will, and a group of magical talking dogs to save St. Nick and show the world what Christmas is really all about.
14. Elf
A baby orphan named Buddy makes his way into Santa's bag of toys one Christmas eve without Santa's knowledge and is carried off to the North Pole. He is raised by Papa Elf and spends his days in Santa's workshop. As he grows much larger than his elf family, it becomes clear that he doesn't fit in, so Santa sends him to New York City to find his family. The whole city of New York appears to have lost its Christmas spirit, so Buddy decides to save Christmas and win over his family.
15. Prep & Landing
A high-tech team of elves from an elite unit known as Prep and Landing ensures homes around the world are prepared for Santa's visit. During their mission, elfs Wayne and Lanny encounter unexpected challenges that push them to their limits and threaten Christmas for children everywhere.
16. Polar Express
A young boy embarks on a magical adventure to the North Pole on the train, the Polar Express. During his adventure he learns about friendship, bravery, and the spirit of Christmas.
17. Mickey's Christmas Carol
The classic Disney animated characters play the roles in this animated retelling of the Charles Dickens masterpiece.
18. Arthur Christmas
So how does Santa deliver all those presents in one night? The answer: Santa's exhilarating, ultra-high-tech operation hidden beneath the North Pole. But at the heart of the film is a story with the ingredients of a Christmas classic – a family in a state of comic dysfunction and an unlikely hero, Arthur, with an urgent mission that must be completed before Christmas morning dawns.
19. Santa Claus Is Coming to Town (1970)
Animated film featuring the voices of Fred Astaire and Mickey Rooney. A mailman reveals the origin of Santa Claus.
20. Home Alone
An 8-year old troublemaker must protect his home from a pair of burglars when he is accidentally left home alone by his family during Christmas vacation.
21. Prancer
A farm girl nurses a wounded reindeer she believes is one of Santa's, hoping to bring it back to health in time for Christmas. Her holiday spirit inspires those around her, something her disheartened father is having trouble understanding.
22. Rudolph the Red Nosed Reindeer
A misfit reindeer and his friends look for a place that will accept them.
23. The Christmas Bunny*
A lonely foster child finds an injured rabbit on Christmas Eve and brings it to the Bunny Lady (Florence Henderson) to nurse it back to health in this family-friendly film.
24. Olive the Other Reindeer
Olive loves Christmas more than Milkbones. So she's devastated to hear the tragic news on the radio that Blitzen, one of Santa's reindeer, is injured and won't be able to perform his sleigh-pulling duties. Olive is convinced she hears Santa ask for, "Olive, the other reindeer." Her pet flea, Fido, agrees and urges her to get to the North Pole as fast as she can.
Looking for more Christmas ideas? There's a Pinterest page for that over here.
Comments? Questions? Leave them here. We'd love to hear from you.
Don't miss a single Dove Parenting Blog. Subscribe to the Dove Foundation feed or monthly newsletter.