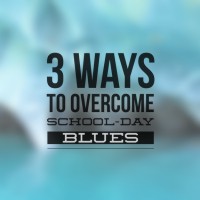 It's a month or two into school. My kids are dragging. I am dragging. The weather is cooling down and I'm thinking wistfully back to our beach days in July.
You're with me, right?
At the Tromp house, we've discovered sometimes laughter is the best medicine. Here are just a few kid-approved ideas on ways to relax with the family:
Funny movies
Sometimes a big bowl of popcorn and a funny movie is the key to overcoming school-day blues.
Tweet This
Here are 10 comedies for all ages:
Harvey (1998 version)—A heart-warming tale about a mild-mannered bachelor and a 6-foot bunny only he can see.)
Chicken Run—A flock of chickens enlists the help of a rooster to help them fly the coop before their egg farm is turned into a chicken processing farm.
Monster's Inc—On one side of the closet door, Monsters step through doors to scare the toxic kids on the other side and produce scream energy. But when one child makes it through to the Monster's world, top scarers Scully and Mike need to protect her until they can get her home.
Zootopia—In a land populated by animals, bunny cop, Judy Hopps, is hot on the trail of a series of kidnapped predators. With the help of a con-artist fox, Judy cracks open the case, but the two friends quickly become the target of a conspiracy.
Penguins of Madagascar—Skipper, Kowalski, Rico and Private now must join forces with the chic spy organization North Wind, led by Agent Classified (we could tell you his name, but then…you know) to stop the cunning villain Dr. Octavius Brine from taking over the world.
Enchanted—A classic animated Disney princess is banished to the gritty real world. An imperfect real-life lawyer helps protect her and falls for her, leaving the princess to wonder if a storybook romance can survive the real world.
Cheaper by the Dozen—"The Baker family, with 12 children, move from small-town Illinois to the big city, after Tom Baker [Steve Martin], gets his 'dream job' to coach his college alma-mater football team." The whole family must make adjustments, which lead to more than a few hilarious scenes.
Adventure of Milo and Otis—A playful kitten, Milo, and puppy, Otis, become best of friends. When Milo is swept away in the river, Otis gives chase. The two have a series of funny and heart-pumping adventures—avoiding bears, finding food, and playing with a crazy fox—all on their travel back home.
Tooth Fairy—When pro-hockey player, Derek, discourages a youngster's dreams, he's sentenced to one week's hard labor as a real tooth fairy, complete with the requisite tutu, wings and magic wand.
Beverly Hills Chihuahua—A snooty Beverly Hills puppy finds herself in need of rescue from tough street puppy.
Or just hop over to Dove Channel and check out their comedy section (if you sign up for the streaming service, you get even more selection!).
Game night
There's nothing that starts giggles more than a few rounds of games. Pay attention to your kids' mood here. They may not be prepared for longer, more thought intensive games like Monopoly or Ticket to Ride… or, if they're anything like my daughter, they may love the slower, longer game. The key is to follow their lead.
There's classics—Uno, Operation, Life, Dominos, and Pictionary.
Or newer games—Tenzi (a dice game anyone can play as long as they can count to 6), Creationary (uses Legos), Headbanz, and Pictionary.
My kids also introduced me to Kahoot.it, an online trivia game. You can play the pre-made games about everything from soccer to Star Wars or you can make up your own (think family trivia, etc.)
Cheeseball Champion
When all else fails, pull out the joke books and tell each other jokes. If you don't have any at home, check one or two out from your local library's kid section. You could even vote about which joke is the funniest—whoever wins gets a package of cheesballs!
What are your favorite family sanity breaks? We'd love to hear from you. Visit us here with your comments and questions.
Don't miss a single Dove Parenting Blog. Subscribe to the Dove Foundation feed or monthly newsletter.