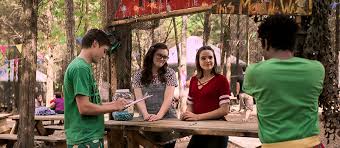 By Jacob Sahms
In Netflix's A Week Away, a group of teenagers assemble at summer camp, to sing, dance, and compete through a week of activities. There's the new guy, troubled Will (Kevin Quinn); the good girl he begins to fall for, Avery (Bailee Madison); Will's bunkmate and the assistant director's son, George (Jahbril Cook); and George's love interest, the quirky Presley (Kat Conner Sterling). To take a peek behind the screen, the four young adults shared their experiences of camp, both from their youth and on the set.
Sterling shared that she started going to church camp at nine or ten, but not all of her memories were warm ones. "There were a lot of bugs and gross camp food! I remember having a good time, but I was a super picky kid, so my parents packed me a cooler of food to take with me to camp, like Mountain Dew and chick nuggets. I was the cool kid because I had but I was the worst kid because I wouldn't share!"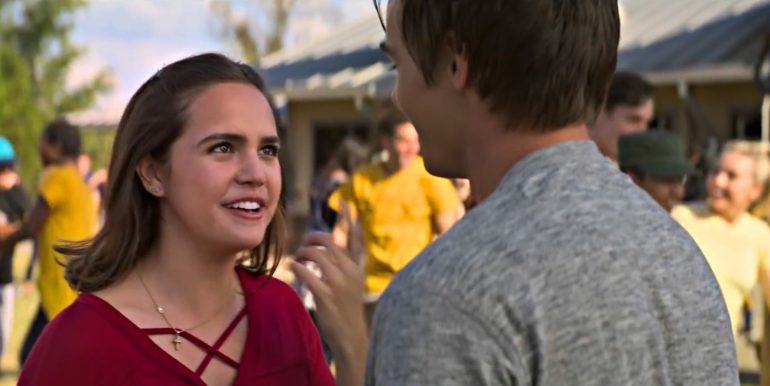 Across from her, Cook shared that he went as a child but that his high school memory of camp was more of a highlight. "It was exclusively for nerds! It was summer camp but we went to classes that we chose. I went for acting; other kids went for French or math. Up until that point, it was my favorite summer."
Quinn's boyish smirk matched up with his camp personality, drawing on memories from three years of summer camp at an all-boys camp in Wisconsin, where he admitted to being a troublemaker.
"I think every kid is a troublemaker at that point in their lives," the singer/actor shared. "There were a lot of pranks, like sneaking into kids' cabins and putting whip cream on their noses or even just sneaking out and chilling on the dock. I remember always getting in trouble!"
Madison was the only one of the foursome to not go to camp, aligning her with the project's songwriter, Adam Watts. But she shared that she felt like her experience on set gave her the best of both worlds: "We got the whole shebang but we were able to go back to the hotel."
Quinn added, "Some of the dancers stayed in the yurts at Camp Aweegaway. I felt like I was a little too old to sneak back in with whip cream."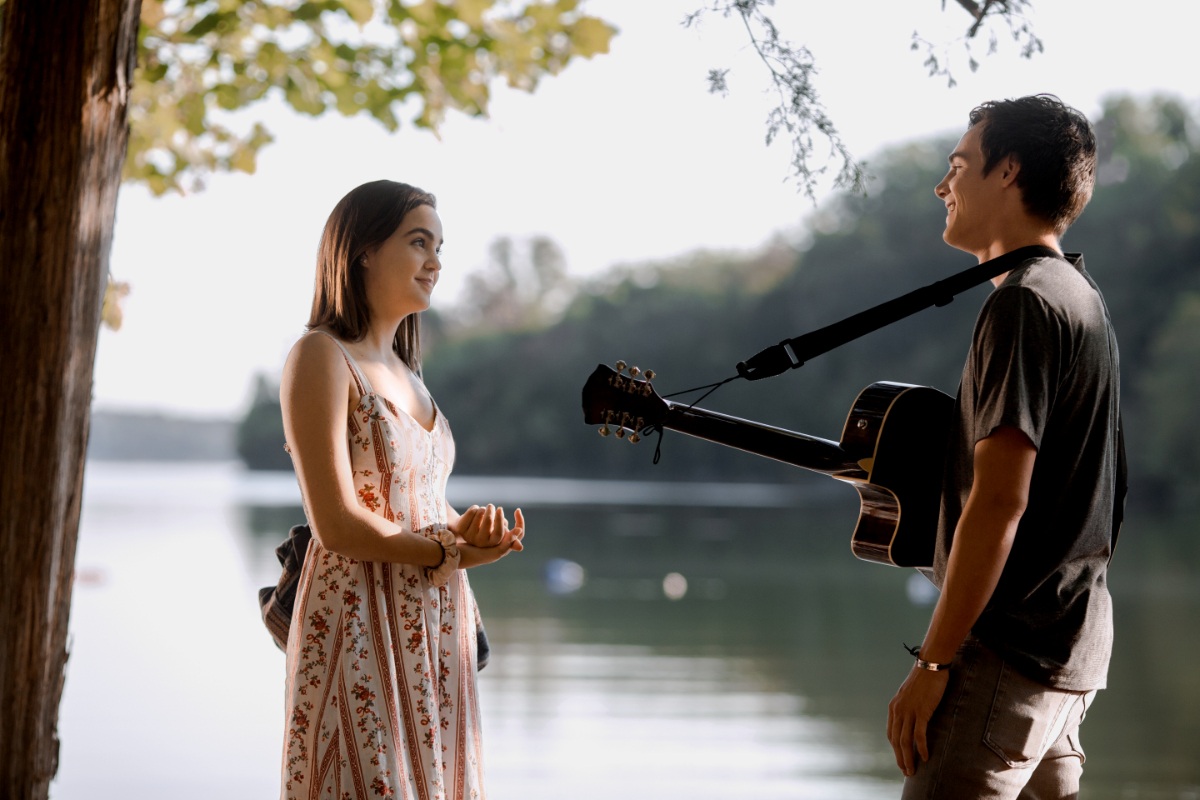 But Sterling pointed out that shooting on location added to the camp feel of the film, and helped the cast and crew bond as friends. "We never had chemistry reads. Jahbril and I met when we had rehearsals. But we met that week and had so much fun. It was the best experience because it had fun camp vibes but at the end of the day, we got to go back to the hotel!"
Cook said that director Roman White made sure that everyone stayed loose and had fun, even if some moments deserved complete concentration. "Even in a scene where I have to channel this anxious kid, he's goofing off behind the camera," he said, chuckling. "It was so fun, the whole time, the environment was like summer camp. And yes, we got to go back to the hotel so no bugs."
While the cast and crew were having fun, singing, dancing, and acting their way through hijinks during dodgeball games and paintball battles, there was a deeper meaning for what they were trying to convey in the midst of summer camp.
Quinn noted, "I think everyone is excited with the film that we got that has a message for kids, with a strong message of faith. Faith is a personal journey, and I hope the film encourages kids to start that journey when they're ready."
"I'm an aunt to a lot of nieces and nephews, and there's no better role for me right now," Madison added. "It's important to me that we made a movie that might help them to grow up in the world, to nurture their minds with all of the things going on. To see them singing the songs I grew up singing with my family, some of our favorite worship songs. And I sat up with my sister the other night, and my nieces and nephews want to sing along and watch the trailer, and my sister looked at me, teary-eyed. 'It means so much to me that my girls can watch the kind of movie that we grew up watching, but they're going to get something from it,' she said. I hope it helps them to start singing, and dancing, to talk to the person at school who is quieter."
The outcome of the film was certainly on the cast's minds, even while they thought about the fun they'd had together. It shows the intentionality and purpose of the film, and it's reason for being, beyond updating music or sharing a few laughs. It comes back to a desire to make sure that people know they're loved, and that they're accepted by God and others.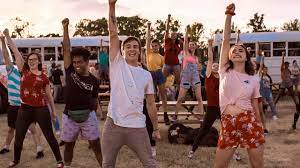 "I've thought about how much this movie means to me now and how much it would've meant to me when I was younger," mused Sterling. "It's about acceptance, and each of our characters goes through this. Will has a dark past – will the kids accept him for who he is? For my character Presley, I'm the weird quirky girl and will George love me, accept me for who I am? Everyone comes together, and says, 'We love you for who you are, and you're amazing.' I think that's really cool to say to a younger generation."
Jahbril summed up the moment – and the movie – with this: "We tell stories that someone needs to see, that hopefully helps them. That's the entire reason we do what we do."
To sing, dance, and carry on with the crew, check out A Week Away streaming Friday on Netflix.