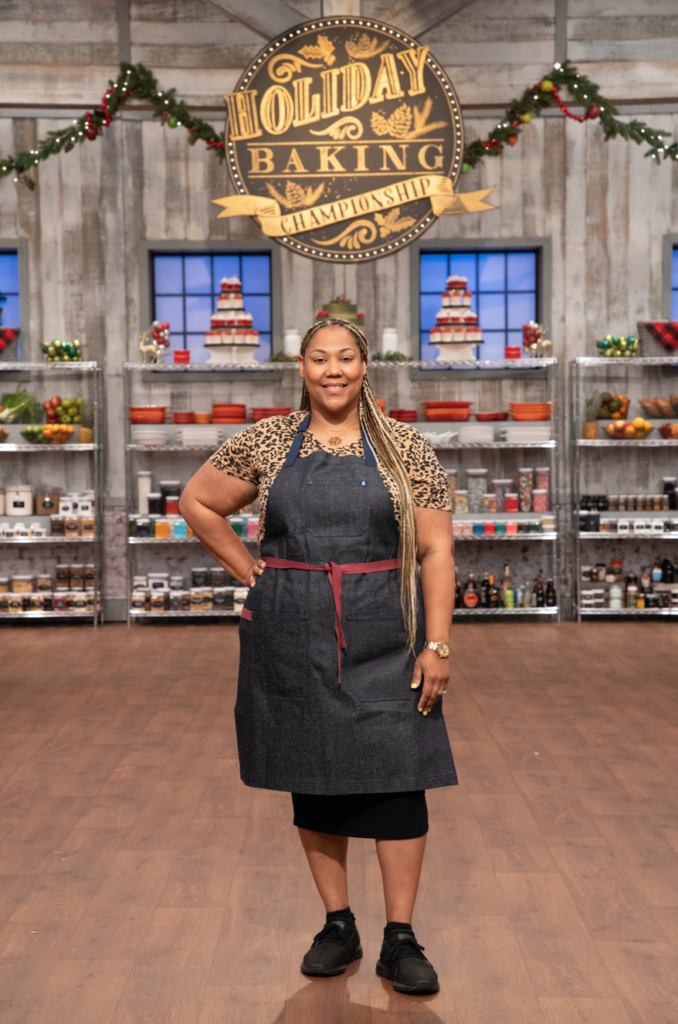 By Jacob Sahms
The seventh season of the Food Network's Holiday Baking Championship premieres Monday, November 2nd at 9 p.m. Twelve bakers from across the United States will compete for the $25,000 prize and the title of Holiday Baking Champion for 2020. This year, Lashonda Sanford, of Scratch Bakery in Newport News, VA, is putting her skills to the test in front of host Jesse Palmer and judges Nancy Fuller, Duff Goldman, and Carla Hall.
Sanford, who grew up in Lexington, Kentucky, remembers baking by the age of seven, with the woman who raised her, Letha Sharp. An amazing baker in her own right, Sharpe made bread, cake, biscuits, and fudge, all from scratch. "I remember making peanut butter and chocolate fudge from scratch, and every day when I came home from school there were biscuits waiting for me on the stove."
Baking was what family did together, Sanford remembers, and when she moved to Virginia, she looked for a bakery like the one down the street from her house. She found one that was able to make a cake for her daughter's first birthday, but when she returned the following year for another birthday cake, the bakery had gone out of business.
"I was under pressure to make a cake," she says, "and I had never made anything really decorated. I was making little cakes and stuff for my church friends and family. I was running a daycare out of my home. But after my friends were like, 'Who made this cake?' and I told them I did, people started to request I make things for them, and I started selling items at church."
Sanford's husband is an assistant Pentecostal pastor at Redeeming Love Church, who helped her design items, including the gooey bars he remembered as a kid. What began as a personal hobby grew to be a business, and Sanford realized that it takes more than just liking to bake if you want to be successful.
"I was talking to one of my bakers who has a culinary education, and she had a professor who said, 'If you're in this because you like to make cakes, or make a dessert, that will die when you're making thousands of them.' Now that's not always true, but what will keep you interested and wanting to do it is what you're doing for people, serving other people, putting some joy in someone else's life."
"I've had people that have lost a loved one and went to a funeral, and a piece of chocolate cake is what they need to make it that day, well, they get a hug and a piece of cake. Chocolate cake is what they needed; serving them is what fills my heart. When the customer can taste that – they can taste the love in the thing we've made and realize that it's the key component, then you can bring some joy."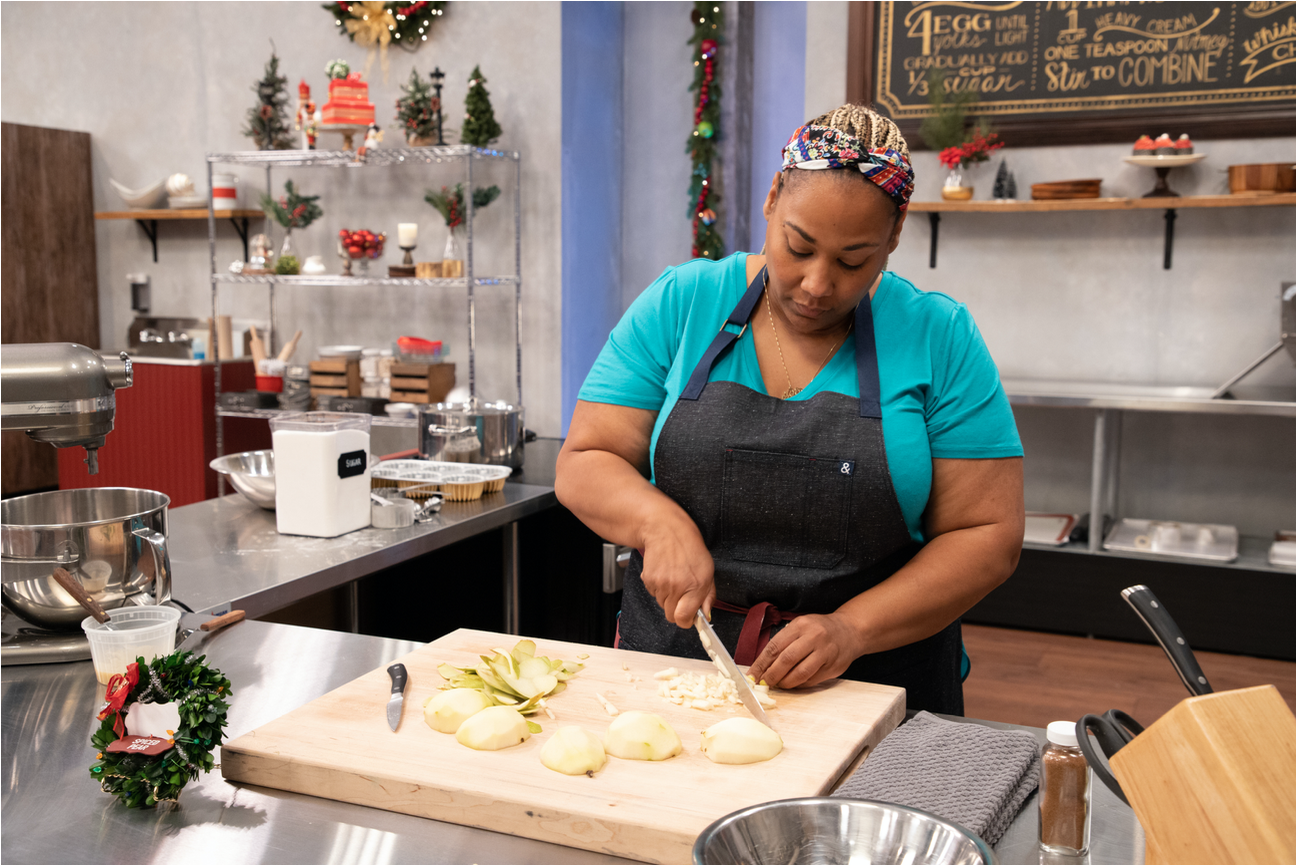 The baker from Newport News by way of Kentucky says that her Kentucky roots taught her that people like to eat good and that she's called to feed them. She calls herself a simple girl with humble beginnings who aims to feed people with love, striving to do her best every day. The owner of the nine-year-old bakery never imagined she'd get a call from the Food Network, asking her if she wanted to be on the Holiday Baking Championship, even thinking it was a prank at first.
"This is probably the most amazing thing to ever happen to my family!" she exclaims, still giddy from the experience. "I went into the competition knowing and believing that I was the underdog because I'm not classically, culinary trained. I'm self-taught, God-taught because I believe God has given me all of the talents of my hands, and I've put in hard work to use them well. We know about God doing his perfect will because God makes things available that we could never imagine!"
So Sanford ended up on this season of the show, assuming that she would make her favorite food items. But she discovered that contestants are blind to what they're going to make, and that when they have ninety minutes to bake, it's not really four hours with a ninety-minute clock. Improvisation became the name of the game.
"It's the difference between a really good baker and someone who is only making something specific," she proposes. "Most of the things that I made I hadn't seen and tasted before. You're just pulling it out of thin air. For someone who doesn't do it all of the time it could be really tough but for someone like me who makes things up every week, it wasn't too horrible."
Now, the baker says she's recognized in public, in coffee shops and walking down the street, by people who've seen the promo for the show. She says her family calls her frequently to share their excitement, and she clearly warms to the idea of what a new customer might experience in Scratch Bakery after watching her on television. She can't narrow down the item they'd walk out with because there are longtime favorites and new creations appearing all of the time.
"Peach cobbler is one of my favorite things," Sanford begins. "Maybe Carrot cake, maybe chocolate cake. This is so hard! But wedding cake is probably what we're known for. You'd have to try a gooey bar, and some banana pudding – people walk out of the door eating that! But Friday is carrot cake day. And sometimes the jumbo cinnamon rolls get apple pie topping…"
Asking Sanford to pick her favorite – or the best thing in her shop – is like asking most people to choose their favorite child. Thankfully, audiences will get to see her in action on Monday, and decide for themselves, whether this baker and all of her creations are worthy of being the next Holiday Baking Champion.