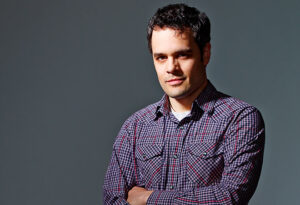 By Jacob Sahms
Raised in Berlin, German filmmaker Thor Freudenthal began using drawing as a means to communicate, modeling his images on the comic books and graphic novels he loved. He still draws, even though his communication has turned to making films about coming-of-age moments like the first film he remembers capturing his full attention.
Freudenthal remembers the way that ET the Extra-Terrestrial made him feel, even the sense of needing to be pulled up from the movie theater floor by his mother. The friendship that blossomed between the isolated suburban human and the lost alien had resonated with him, moving his soul. Beautiful films continued to capture his attention as he grew up, and he realized that it could become the medium he used to tell stories. Over time, he found himself directing coming-of-age films like Diary of the Wimpy Kid and Percy Jackson: Sea of Monsters.
Now, the director has moved to a more dramatic premise: that of a young man in high school struggling to understand his own mental illness and to be understood by others. "I read Julia Walton's novel, Words on Bathroom Walls, and fell in love with it," Freudenthal shared. "It had a young person's perspective, a serious story about mental illness, but it did with a light, and sometimes funny way, which ultimately disarmed me and broke my heart. The main character is relatable, honest, and deals with life in other ways. It's a story about being a human being. It lends a new representation to people living with the illness and the family members who love them and have to deal with the illness at well."
Words on Bathroom Walls is another coming-of-age story, amplified by mental illness. "Characters who would want to seem normal or fit in, like Wimpy Kid and Walls' Adam, for great lengths, try to pretend they are someone they're not. Life starts to open up for them when they accept who they are. The power of the coming-of-age stories are about people who try to push themselves away, or ignore who they are, who are not true to who they are and they ultimately come to grips with who they are. In the end, Adam doesn't defeat the illness; Wimpy Kid isn't incredibly popular, but they own who they are and overcome feeling unloved. That's why these stories are so enticing."
The animator-turned-director believes that the film could encourage people to empathize more, to encourage them to reach out and communicate. Thanks to Freudenthal's adaptation of Walton's story via Nick Naveda's script, audiences can see Adam's schizophrenia embodied in different characters portrayed by actors on screen, making the illness tangible. "The reason I wanted to make this movie," he said, "is that it could create incredible empathy for people who know nothing about this illness. People would walk in their shoes, experience what's inside their head."
"When we started filming the movie and hiring the crew, everyone had a story to tell, either dealing with issues themselves, or having family members, or friends, who deal with it. They wanted to tell the story and bring more visibility to issues that are way more widespread than anyone wants to acknowledge. What I intended to give everyone was not a comfortable distance via case study but to feel and hear what Adam deals with that affects his everyday life. I would hope people would bank that away in their consciousness and the next time they meet someone with anxiety or something more serious, that they would see them as people first rather than duck away in fear."
To show how someone could care for and love a person with schizophrenia, Freudenthal highlighted the relationship between Adam and his mother. The film also shows Adam and a priest at the high school, Andy Garcia's Father Patrick, who is sympathetic to Adam's situation.
"Father Patrick is able to not be didactic or indoctrinating. He's so secure that he can play it loose. It really was a great element of the story that I liked. By the time Adam meets Father Patrick he feels cornered, reserved, and not listened to. His family and the therapeutic situation with a drug trial have made him feel more like a guinea pig than a human being."
"This unlikely friend becomes a no-pressure sounding board about what he thinks and feels," Freudenthal continued. "That priest character is a counterbalance and ally who Adam could embrace; he even asks him for love advice, concerns that he can't take anywhere else. There's an unbiased quality to Andy Garcia's character. It gives him the energy and belief in himself in that moment."
Words on Bathroom Walls debuts this Friday, and gives audiences a chance to see how mental illness impacts people, and how people of faith might respond.