The Masked Saint, based on a book by Pastor Chris Whaley and starring Brett Granstaff as Chris, premieres January 8, 2016. The Dove Foundation recently caught up with the real-life Pastor Chris and the man that plays him, Brett Granstaff.
Dove: Chris, can you tell us a little bit about the background concerning "The Masked Saint" and how you got involved in it?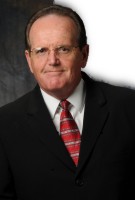 Chris: "It started a long, long time ago, when I first became a pastor in 1988. I was going to my first church– had some issues that took place there that were handled in a little bit different way than a pastor would normally do, and after that, issue after issue happened. Before you know it, I was thinking that it would be great to write this down. You don't hear about many pastors doing this stuff. I tried to find someone else to write it, for a long time, because I didn't think I was a writer and that didn't work out. One Saturday I sat at my computer and began writing and before it was over I had the first chapter. My wife looked at it and she loved it, and she's my biggest critic. So that's how it all got started."
Dove: Is this a fictionalized story of your life partly based on truth?
Chris: "In the book each chapter is based upon something that happened in my life. So there's a lot of realism in it. I think the movie says 'Inspired by' but it's based on my life.
Dove: Brett, how was it playing Chris in the movie?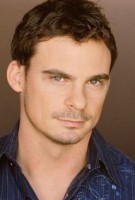 Brett: "It was great. His story is actually kind of what brought me to this project. I'm thinking, 'Here's a pastor, and we always think, you know, growing up, all pastors, we put them on a pedestal' and I read this story, and here's a pastor that doesn't necessarily turn the other cheek, so to speak, every time. That's kind of interesting. How can I bring this to life? The dichotomy of him being a professional wrestler and a pastor, where's the overlap? It was very, very interesting to work with."
Dove: Chris, what were some of the positive experiences you had in both writing and filming the movie?
Chris: "I think the great thing in writing it was that it just brought back a lot of great memories. You know, I struggled with some things. I know the Bible says the Lord doesn't love a brawler and I'm not a brawler. I think there are some things that can only be dealt with, with a little bit of force. I mean, Jesus cleansed the temple with a whip and turned the tables over. I did struggle with that. I think looking at it–I didn't go looking for it (physical altercations). I stood up for people that couldn't stand up for themselves. With the movie, it was an awesome experience because I felt like a blind dog in a meat house. I didn't know which way to go. I had never experienced anything like that. I used to think movies were so easy. And now I have a greater respect for Brett and the people who do what he does, because they start at 6:30 in the morning and they go till 12:30 at night. It's just one thing after another and of doing scenes over and over and over and over again."
Chris said he was amazed by what Brett did and thankful he didn't have to be in his shoes.
Dove: Brett, what was the training experience like?
Brett: "It was great. We brought in this guy, James Preston Rogers, who actually went through the WWE training camps and was close to making it to the big show. He was great–he choreographed all our wrestling matches. But for me it was kind of intimidating. He brought me in and said, 'Okay, you have eight classes to learn what it takes most people four years, five years, to learn. Ready, go!"
Brett said he picked him up and then a few moments later told him, "Next time remember to breathe!" Brett added that it was daunting at times and a few things he didn't want to do, like jumping from the top rope high in the air, but he realized there was no one else to do it, so "I just did it!"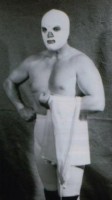 Dove asked about the era that Chris worked and he mentioned the period of Bobo Brazil and The Sheik and he said he didn't wrestle those particular wrestlers because they were in different territories. "There were 26 territories to wrestle in at the time," Chris said. He added the WWF became national and gained more exposure in the 80s. Chris wrestled a few big names including "The Undertaker".
Chris is a funny guy, adding that his grandfather thought "The moon landing was fake and wrestling was real!"
Dove: Is there anything you would like to add regarding the message or the movie?
Chris: "The overriding message is that God is a God of a second chance. There are a lot of people that have failed that just give up. God is able to put us back on the wheel as in Jeremiah 18 where he told Jeremiah to go to the potter's house. When he got through working with the clay it was flawed so he put it back on the wheel, squished it back together and made it into a new vessel. I was able to be put back on the wheel and made into a new vessel and I think that's the message for the people that see it." He added that sometimes you have to stand up for those that cannot stand up for themselves.
Dove: Brett, what experience did you take away from the film?
Brett: "Sometimes you see something wrong and you just kind of pass by. Now, after seeing this film, I'm like, 'Gee, are you okay? Is everything okay? Do you need any help, because maybe I'm the right person at the right place and the right time."
Chris added that he thinks people are going to love The Masked Saint. "This is not your typical faith-based movie. I think each faith-based movie continues to get better and better and I think this one is the best. Brett does an unbelievable job in the movie." He added the quality is the best yet of faith-based films in his opinion and that it won the Best Picture in the International Christian Film Festival.
---
Here is a link to The Dove Foundation's film review of The Masked Saint
For more information about the movie, visit the Official Website
---
Interview by Scott Rolfe & Edwin L. Carpenter