Kaitlyn Maher was born in Novi, Michigan, on January 10, 2004.  At just 12 years of age, she is an accomplished actress and singing talent, having appeared several times on America's Got Talent. She is the star of the soon-to-be released movie, Pup Star, debuting on Netflix on October 29. Kaitlyn recently made time in her busy schedule to speak with The Dove Foundation.
Dove: How did you get started in the entertainment business?
Kaitlyn: "When I was four years old I was on America's Got Talent and I was the youngest top-ten finalist on the show and after that a lot of doors opened up in the acting/film industry.  I have been able to bless people in different ways through that, and I feel like God has really given me gifts of acting and singing, and I'm really excited to be able to use those for His glory."
Kaitlyn added that one of the first roles she was offered was Santa Paws and "then I was cast in other Disney movies as well as TV shows after that. It's just been really amazing how through one opportunity God has opened up a lot of doors—it's just been incredible. I'm really grateful for all that it's done in my life."
Dove: As far as acting and singing goes, do you prefer one over the other?
Kaitlyn: "I like both singing and acting for different reasons. I'm a very musical person if you will, and I play guitar—I'm learning guitar and piano, and I write music and songs, and I lead worship—that's one of the things that I really love to do.  I feel passionate about those things and so I feel like that's something God's called me to ever since I was really, really little at a young age. I feel that acting has really supplemented the singing in ways that I never could have imagined.  I've been able to reach people from different backgrounds, different environments and being able to have experience on TV and in the movies have given me real-life experience that I can apply to my later life. It's also given me the opportunity to reach out and inspire other people along the way. I could even sing and act at the same time. In answer to your question if it comes down to either singing or acting–I really can't choose between them."
Dove: What appealed to you about acting as "Tiny" in Pup Star?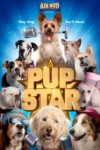 Kaitlyn: "One of the things that really appealed to me about doing that role was, of course, that I got to sing and act, but– in a larger sense–the movie has a good message. That's one of the things that I look for in every movie that I watch and that I am a part of—the message of the movie and what it's trying to tell people and who it's trying to inspire."
She added when she read the script for Pup Star she thought it was "really cool. If every child in the world heard this message I believe that the world would be a better place. And the message of Pup Star is that you don't have to be big to do great things. Tiny, this little puppy, is nervous and she comes from a background with an owner who has lost her mother whom she loves very much.  It's about overcoming trials and great difficulties to become the pup star and—to me—even in our life whether you're a kid or an adult you face trials and difficulties but, in all of it, God will help you persevere.  God will help you get through it, and overcome your trials if you trust in Him and press on. I can relate to Tiny a lot because Tiny's a little puppy up against the wave of big dogs. I'm five feet tall and I'm twelve years old which is, believe me, a rare combination! I can definitely relate to Tiny in a lot of ways. When I first read the script I felt that God would be able to use me in this."
Dove: It's been said it's not the size of the dog in the fight, but the size of the fight in the dog.
Kaitlyn: "I can't even say how true that is. It's really true and I've seen it played out not just in this movie but also in real life. I really believe that message is true and one everybody anywhere can relate to."
Kaitlyn added as far as school, business or any other challenges she faced in getting her role completed, that "I feel like I didn't have many conflicts at all. The only conflict (or challenge) that I probably had was—I do a lot of traveling.  Just this year alone I traveled to Africa, Honduras, around the entire United States and it's just been crazy to manage that along with my school work—traveling with no internet connection and, in Africa, not being able to get to e-mails quickly. That was the only challenge."
Dove: What was rewarding about making the movie?
Kaitlyn: "I think the most rewarding part of everything I do is for someone to tell me 'what you did impacted my life.' I get that a movie may not be ground-shaking in a person's life but when you think about it—to me, my goal is that if the message of the movie has helped somebody, inspired somebody, to overcome difficulties and to just press through in life, then that's what matters."
She said the finished product that inspires people, and has a message, is what is rewarding to her. She hopes people will be able to relate to her newest movie, Pup Star.
Kaitlyn Maher is not only a very talented singer, actress, and worship leader at her church, she is intelligent and wise beyond her years.
Interview by: Edwin L. Carpenter, Senior Reviewer – The Dove Foundation
Read Dove's Review of Pup Star