Lily: More Than Puppy Love
DVD Release:
December 2, 2014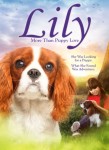 Synopsis
Lily has been waiting for the perfect opportunity to ask her parents for a puppy, and with her birthday approaching, it seems the time has finally come! After her incessant pleading convinces them, Lily's parents take her to a farm to pick up the last puppy in a litter. But when they arrive, a spoiled little boy has already walked away with the pup! With no other dogs available in the area, Lily starts to think she'll never get a four-legged friend. Then, Lily and her family get word that the puppy has run away from the little boy. Determined to help with the search, Lily's perseverance might just bring her the puppy she's been hoping for.
Dove Review
When you are young and have your heart set on getting a puppy for your birthday, sometimes you will go to any extent to get what you want. That is what Lily wants, so she lets her parents know in every way possible: notes, signs and emails. But do to a little delay the family misses getting the perfect pet at first . Then an unfortunate or maybe a fortunate, for LILY, incident happens and a second chance comes along for her to have the puppy she named Lucky.
Here is a wholesome movie for the entire family. It is a story of a kind heart, loving family and makes the point that dreams can come true. We award the Dove "Family-Approved" Seal for all ages to this movie.
Info
Company:
Echo Bridge Home Entertainment