A Matter of Time
DVD Release:
February 14, 2014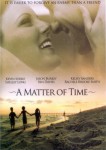 Synopsis
Nathan Hanighan (Jason Burkey) returns home from college on his spring break with a ring in his pocket, and intentions of proposing marriage to his high school sweetheart Sharon Donahue (Rachel Brooke Smith). His story quickly turns to betrayal when he finds Sharon and best friend Jeremiah Joelsey (Ben Davies) have fallen for each other in his absence.
Heartbroken he moves away to Angler Island, following in his reclusive father's (Kevin Sorbo) footsteps, only to be forced from his life of solitude after unexpectedly losing his job. His circumstances leave him no choice but to return to his hometown of Shelton Harbor, and face his painful past. Taken in by his loving grandmother (Shelley Long), Hanighan quickly realizes that he will be sharing the house with his former best friend's little sister Miranda Joelsey (Kelsey Sanders), who is now his grandmother's caregiver. Unwilling risk his heart again, he battles his growing feelings for Miranda, and refuses to see the positive impact she is having on his life. But when tragedy strikes, and a choice must be made; will Hanighan pursue a life of new beginnings or return to a desolate place of a love once lost?
Nathans homecoming becomes one of discovery as he finds healing by facing his issues, mending broken relationships, and finding his heart open to love again.
Dove Review
This is an awesome movie! It covers some relevant topics including forgiveness and the fact that God's plan takes time to come to fruition. Nathan (Jason Burkey) is a former basketball star with the nickname "Hoops" Hannigan, and he did not accept a scholarship but instead pursued his dream of being a writer. No one could understand his decision including his fiancée Sharon. While Nathan is away she winds up with his best friend Jeremiah. Nathan learns this upon returning home to propose to Sharon.
As the years pass by Nathan holds on to his bitterness toward Jeremiah and can't see that Jeremiah's sister, Miranda, a beautiful girl's basketball coach, is in love with him. Nathan also deals with a rocky relationship with his father (Kevin Sorbo). Ultimately Nathan must decide whether to hold on to his un-forgiveness or finally release it. This movie contains important themes and a good story. It points the way to keeping faith in God. We are pleased to award this movie our Family Approved Seal for ages twelve and above. See this movie as soon as you can and you will be glad you did.
Content Description
Other:
Tension between a few characters; a man refuses to forgive his best friend for something that happened; an assistant coach comes down hard on the girls while he is upset about something but he does apologize; death and grief; a man is angry with God and says he doesn't want to know more about His plan but he changes.
Info
Company:
Big Film Factory
Reviewer:
Edwin L. Carpenter