Justin and the Knights of Valor
DVD Release:
February 4, 2014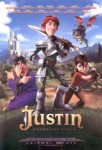 Dove Review
Justin is a wonderful young boy and remembers all the stories that his grandfather told about being a Knight for the royal kingdom. It also is his wish to become a Knight but there is one thing keeping him from it, the law that the Queen and his father signed. Knights are outlawed and that is just not right because who will keep the kingdom safe?
A boy's dream is important even if it is not what his father wants. Justin's father wants him to be a lawyer like himself but only Justin's grandmother knows the real truth and what needs to be done. So an adventure begins as the young boy leaves on a quest to return the Knights to the kingdom. The first thing he must do is learn to be a Knight and the second is to find his grandfather's sword. Here is an animated story of one young man's quest. It is a tale of dreams, goals and how important it is for parents to listen to children and their dreams for the future. It also tells of friendship, courage, kindness and working together for what is good and just. Although this is a good movie there is some content that is a bit over the top for the targeted audience such as drinking and violence. With that stated we award this tale the Dove "Family-Approved" Seal for ages twelve plus.
Info
Company:
ARC Entertainment