Grudge Match
Theatrical Release:
December 25, 2013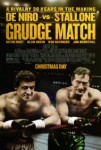 Synopsis
The story revolves around retired boxers Billy "The Kid" McGuigan and Henry "Razor" Sharp, lifelong bitter rivals who are coaxed out of retirement and into the ring for one final grudge match — 50 years after their last title fight.
Dove Review
"Grudge Match" is a slow moving movie that tries too hard to create a story that the audience will sympathize with. Unfortunately, the filmmakers do this with almost every character in the film. Due to the long back stories the main plot of two over-the-hill boxers facing off against each other that should have taken 90 minutes to unfold takes just short of 2 hours. In addition to the excessive sub-plots, the dialog contains so many foul words that you really have trouble feeling a great deal of compassion for the characters. Due to the excessive langugae and sexuality in the movie, this film is not considered to be appropriate for family viewing.
Content Description
Violence:
Man punches another; Men fight and break televisions and computer parts over each other; Several scenes of men boxing with blood splatter and open head wounds;
Sex:
Man/woman kiss briefly; Man has sex with woman in car when a kid enters the vehicle (man in underwear, it is apparent the woman was undressed); Woman admits to having sex with Man's boxing opponent and he fathered her child.Several jokes about sex; Several sexually related jokes about a man's initials (BJ) including many conversations with a young boy in which the adults say it stands for "Butterscotch Jellybeans"
Language:
MF-i(mouthed); F-1(bleeped); J-2; JC-1; "For God's Sake"-2; H-8; A-19; S-33; GD-9; SOB-5; D-5; OMG/G-2; B-1; BS-4; Whore-3; Slang for male and female genitalia-12
Violence:
Man punches another; Men fight and break televisions and computer parts over each other; Several scenes of men boxing with blood splatter and open head wounds;
Info
Writer:
Tim Kelleher & Rodney Rothman