Hang on to Jesus! Adventures: More Like Jesus (Illustrated)
Theatrical Release:
April 1, 2014
Book Release:
April 1, 2014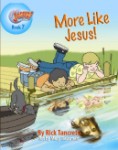 Synopsis
Hang On to Jesus! Adventures bring Bible truths to life for young readers. Children will discover God's character and kingdom through selected passages of Scripture and wondrous journeys with Jesus. Invaluable as part of an educational program, this series also includes teaching tools found on our website: www.LittleSaintsPress.com. Hang On to Jesus! Adventures will help children live out and defend their faith, as well as fall in love with their savior.
Jesus takes Ricky and Dee Dee on a journey where they discover they're on the greatest adventure of their lives – becoming more and more like their Savior!
Dove Review
Dee and Ricky are spending the night in their tree house and discuss what they want to be when they grow up. Once again, as in other dreams, in their dreams their adventure with Jesus appears and they talk to him about being like Him. The conversation between the children and Jesus is enlightening plus informative as Jesus helps them understand how they can grow to be more like him. It is by their actions with help of the Holy Spirit.
This book, like the others, educates and inspires children with the wonderful teachings of the Bible and features a great adventure by the young children Ricky and DeeDee. The brother and sister visit with Jesus in their dreams to get the answers to the questions that they have. As in all the "Hang on to Jesus! Adventures" they are a wonderful entertaining faith based story books. We are proud to award this book with the Dove "Faith Friendly" Seal for all ages.
Info
Company:
Little Saints Press
Industry Rating:
Juvenile