Christmas Grace
DVD Release:
December 5, 2013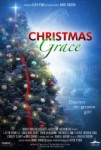 Synopsis
Gary, a Christian who runs a toy store has his business threatened by Jim Tollman, who owns a larger toy store that opens up across the street.
As the story unfolds you can see God at work, and His grace and providence work out in ways neither gentleman saw coming!
Dove Review
This is a wonderful Christmas tale. It is a heartwarming and inspirational story about the grace of God during one of the greatest times of the year, the Christmas season. Gary, a devoted Christian, runs a toy store along with his wife Susan. They are happy with their lives but then Jim Tollman shows up and tells Gary he is the owner of the new and much larger toy store across the street and that he intends to put Gary out of business. Tim Kaiser does a great job playing the hardened businessman who is rude and unscrupulous, even paying a delivery man to dump an order Gary needs for his toy store.
Gary continues to be as nice as he can to Tollman and some Christmas carolers sing to him outside his business window which, though apparently making him quite angry, begins to actually soften his heart. When Gary's store begins to prosper due to his invention, The Treasure Ball game, and Tollman's store begins to lose money, Tollman will need a miracle to save his store and the person God uses to help Tollman out is a bit surprising. This wonderful film shows that change is possible and makes a powerful statement about the grace of God. We gladly award this movie our Dove "Family-Approved" Seal for all ages. "Christmas Grace" is a terrific movie to watch, any old time of the year!
Info
Company:
Bright Horizon Pictures
Reviewer:
Edwin L. Carpenter