Living Hope
DVD Release:
February 23, 2014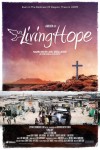 Synopsis
In 1999, John Thomas, a pastor of a local church in Cape Town, South Africa, realized that an entire generation of his neighbors could soon be lost to HIV/AIDS, and poverty. The action he took not only changed his city, but attracted the attention of foreign dignitaries, rock musicians, and U.S. Presidents.
"Living Hope" is a feature-length documentary film that tells the inspirational story of John and the hundreds who cam alongside him to fight poverty and disease in South Africa. Filmed in a visual style comparable to a National Geographic feature, "Living Hope" takes audiences on a cinematic journey to Cape Town, where they follow alongside a group of amazing individuals who have devoted their lives to serving the poor. "Living Hope" offers a seldom-seen perspective of the joy, heartache, and passion of missionaries in Africa.
Narrated by Dove Award winner Joel Smallbone of the band, For King & Country, "Living Hope" also features personal stores from former White House Press Secretary and FOX News host Dana Perino, and Grammy Award winning musician Michael W. Smith.
Dove Review
"Living Hope" will inspire you! The story of Joey Lankford and his wife Courtney and how they have helped untold numbers of people in Africa will warm your heart. The viewer also learns of the story of Pastor John Thomas and how he put works behind his faith.
In this terrific film we see a man named Clifford moved to tears when a Sunday School class back in the United States raises the funds so that his wife can have an operation for cancer and his travel expenses to be with her in Zimbabwe are covered in addition to any prescriptions she will need and his salary for one month so that he can spend time with his wife.
We see the power of the gospels change lives in this area which has been staggered by the HIV virus and A.I.D.S. On young girl, 14, lost her mother and aunt to A.I.D.S. and had sexual relations with a nephew in order to continue to live where she was. She contracted the virus and her baby was born with it. We learn that she named the baby "No Hope" because of her situation but a minister and his church helped her find work and a place to live and introduced her to the Lord and she renamed her baby "Lelethu" which means "The Lord is my Hope."
A church organization, Living Hope, receives Federal Funding for their program to help meet the needs of people and it takes place under former President George W. Bush and it is because of their integrity states a man involved with Living Hope. This fantastic film, "Living Hope", is a gripping and touching documentary. We recommend it for ages twelve plus, due to a few of the sophisticated themes. We are happy to award it our Family Approved Seal. This story of hope might very well increase your hope as your watch it.
Content Description
Sex:
A comment about prostitution and people pray against it in the area; a teen girl is pressured to sleep with a sixteen year old boy it is said so that she may continue to live where she does but she winds up becoming a Christian.
Drugs:
A woman shares her testimony about being a former drug addict before becoming a Christian and it is stated elsewhere in the documentary that someone used to use drugs but no longer does.
Info
Reviewer:
Edwin L. Carpenter