Rocky Road
Theatrical Release:
July 20, 2014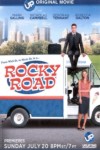 Synopsis
Network Premiere: Sunday, July 20 8pm EDT on UPtv – Harrison Castle (Mark Salling) has the corporate apartment, expense account and big office at his prestigious Wall Street firm. Harrison is a wheeler-dealer with the world at his feet. But it all comes crashing down in an instant. His firm suffers catastrophic losses and is forced to downsize and Harrison is one of the casualties.
Shell-shocked, having lived on the margin the same way he trades, Harrison is suddenly broke. In fact, he's in debt. He has fallen from Wall Street to Main Street in one bus ride. The bus pulls into a quaint New Hampshire township and Harrison's parents are surprised and thrilled to see him.
Harrison pretends that he is taking a long overdue vacation, when, in fact, he is living his worst nightmare — moving back with his parents and working his old route in his father's ice cream truck business.
Dove Review
For eight years Harrison has lived in the big city with all the high society thrills-nice apartment, fancy cars, and restaurants at his fingertips. He had thought he had what he wanted most in his life: a big time job. But that comes to an end when the boss tells him the company is downsizing and although he is the best employee in the business he is also the most expensive, so he is laid off.
With no place to go but to his parent's home in a small town in New Hampshire, he has to face the fact that there is no place like home. His parents soon discover that he is broke and out of a job. His father makes Harry(Harrison) go to work for him driving the ice cream truck, and in doing so he finds that he can help improve the business. Also, he discovers he still has feelings for his high school sweetheart. This is a charming story about growing up and seeing that what is right in front of you may be the best life you can ask for. And to quote a character in the film " The best route in life is the Rocky Road to home". We are proud to award "Rocky Road' the Dove "Family-Approved" Seal for all ages.
Info
Writer:
Tippi and Neil Dobrofsky