77 Chances
DVD Release:
November 21, 2014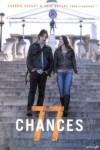 Synopsis
Aspiring photographer Jason (Andrew Cheney, Seasons of Gray) is stuck in a rut. He moved back home after his mother died to help his sister Eva (Erin Bethea, Fireproof) run the family business. Now, he feels like each day is a repeat of the last, and he'll never get to chance to follow his dreams. Jason may think his life is a broken record, but he's about to truly find out what living the exact same day over and over and over again is really like. After a chance encounter with the beautiful and spirited Mac rekindles Jason's zest for life, a little divine intervention conspires to make him see the world in a new light. No matter how badly he wants to see how the rest of their relationship goes, Jason can't move on to the next day in his life until he resolves his feelings about his family – and his faith. Until that happens, it will be the same song on the alarm clock every morning, the same boring day at work, and the same amazing, awkward, hilarious first date for the rest of his life.
Dove Review
"77 Chances" is a fascinating and original movie about second chances, even third and fourth chances, and more. Jason (Andrew Cheney) is a young man that left New York where he was studying photography but returns home to help his sister care for his ill mother. When the worst happens he stays and works for his sister, Ava (Erin Bethea), and attempts to deal with his anger. He then meets McKenna, called "Mac" (Rachel Hendrix), a Christian girl, and he falls for her. She reciprocates the feelings. However, he draws the line at her belief in God. He learns her mother died in an accident and she dealt with anger at her mother for going out that day, and at the driver for being careless, then finally at God for allowing it to happen. Yet she eventually made peace with God. Mac and Jason truly connect, even conducting a stare-down contest at the restaurant while eating pie and the loser has to take whipped cream in the face. When a tragedy strikes Mac, Jason winds up reliving every day over and over again. Although he makes different choices, hoping to change the tragic outcome, it doesn't make a difference.
For example, there is a scene of a child that knocked over coffee and spilled some of it on him. When he relives the moment he gives the child a donut ahead of time and is nice to him, instead of sticking his tongue out at the boy as he did before. He forgot to take his sister a cup of coffee when he bought himself one so, when reliving the same day over again, he remembers. But no matter how much he tries, he can't prevent the tragedy to Mac, as he lives it every day again. Jason has her park somewhere else than she did before but the truck still comes racing at the side door of her car. Finally, an older and wise gentleman he had coffee with, makes a needed point. Perhaps it isn't about preventing the accident to Mac, but it is about Jason's feelings and his relationship with God. Will it make a difference if Jason asks God to forgive him for his bitterness? You will have to watch the movie to find out what happens. "77 Chances" is an inspiring movie with a captivating plot. We are more than pleased to award it our Faith Friendly Seal for ages twelve plus due to the sophisticated themes. This movie soars with inspiration!
Content Description
Violence:
We see lights, truck approaching fast and about to hit a car in the driver's side; a man shoots paint-balls at a truck but later regrets it.
Violence:
We see lights, truck approaching fast and about to hit a car in the driver's side; a man shoots paint-balls at a truck but later regrets it.
Info
Company:
EchoLight Studios
Reviewer:
Edwin L. Carpenter