Americas Railroads: The Steam Train Legacy (6 Disc set)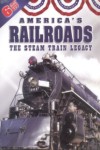 Synopsis
If you like trains, you will love this diverse and fascinating collection of railroading films. These fun and fact-filled documentaries span the history and development of the railroad industry, from the building of the first transcontinental line to the height of steam engine operations during World War II and the eventual triumph of diesel over steam. Relive the thrill of riding the rails across the ever-changing American landscape and experience the challenges, the romance and the day-to-day operations of America's greatest railroads. Take a nostalgic look back at a classic way of life as we introduce you to the people and machines that built the Great American Railroad. Introductions by noted railroad historians Walter P.Gray IV and Don DeNevi.
Dove Review
This is a wonderful collection of six DVDs about the American railroads. Train enthusiasts will fall in love with this informational collection that details many great facts about the popular way to travel from the early 1800s to modern days. Travel through the rough winter season and learn how hard it was to keep the tracks open; follow the freight trains as they take a trip to Chicago or the trains that took many troops off to war. Across miles and miles of tracks you will discover amazing historical information and data from railroad historians about the importance of these massive locomotives all over the world.
Do you realize the vital role the railroads have played over the years? Whether we were at war or needed to travel across America, needed food or building supplies, these large iron horses—as they have been called—were there to do the job. You will gain amazing knowledge about the history of the American railroad system in this 12-hour collection. This is truly an enjoyable, educational chug-along collection. We are proud to award this DVD set the Dove Family Approved Seal.