A Golden Christmas 2: The Second Tail
DVD Release:
October 2, 2012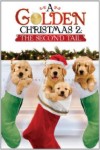 Synopsis
Rod and Katherine Wright are enjoying their retirement in Florida–or so they're telling each other. Actually, Rod is bored with nothing to do and Katherine misses her kids back home, especially with Christmas right around the corner. At least they've made friends with their new neighbor, Lisa, who's a golden retriever fan like them. Rod and Katherine's dog Jake has three new puppy playmates: Mario, Luigi and Pasquale. But when Jake and the puppies take off during a walk with Lisa and interrupt a wedding proposal, Lisa is mortified to discover the proposer is none other than her lifelong-friend-turned-boyfriend-turned-ex, David. Everyone can see that David and Lisa are meant to be together–everyone, that is, except for David and Lisa. Now, with David's wedding approaching, they must decide whether to leave their love in the past or give it another chance. With a little help from Rod and Katherine and four lovable pups, it's sure to be a Christmas to remember!
Dove Review
"A Golden Christmas 2: The Second Tail" is a wonderful Christmas story set on the beaches and in the warmth of Florida. Rod and Katherine Wright (Bruce Davison and Alley Mills) are retired in Florida but miss their two daughters. Katherine meets a young woman named Lisa Haynes (Julie Gonzalo) and Rod meets a young man on the same day, David Bennett (K.C. Clyde). Neither realize that Lisa and David used to be a couple. Katherine notices that Lisa looks wistfully at David's picture that she brought to her new home. Lisa hasn't seen David in a couple of years, but runs into him on the beach just at the time he is proposing to his new girlfriend, Kelly (Kelly Stables). Despite the fact that a dog named Jake continues to cause trouble in David and Kelly's relationship, and despite the fact it is obvious to everyone that David and Lisa belong together, little things seem to prevent it from happening. Will it happen by movie's end? You will have to watch to find out.
This is a unique Christmas story; you know something is different when you see signs on the beach that say "Merry Christmas" and "Believe." Some nice themes are played out in the film including the fact that marrying one's best friend is the way to go, and following one's heart. We are pleased to award this film our Dove Family-Approved Seal for ages twelve plus. It features romance, some humor, and cute dogs to boot!
Content Description
Language:
G/OG-9; "I swear to G"-1; H-6; D-2; Son of a B (the B sound is heart)-1; A-1; Sucks-1; Crappy-1; someone thinks a woman is called "Ditch" but you get the idea it was another word.
Nudity:
Cleavage; people in swimwear on beach; women in bikinis; one woman's rear cheeks are seen hanging out of bikini.
Info
Reviewer:
Edwin L. Carpenter