Revenge Of The Bridesmaids
DVD Release:
April 26, 2011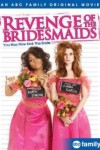 Synopsis
When best friends Abigail and Parker return to their small, Southern hometown for a visit, they learn that their close friend, Rachel, has lost the love of her life to their ex-friend Caitlin–a conniving gold-digger. Parker and Abigail go "undercover" as Caitlin's bridesmaids to sabotage the wedding. But their best-laid plans start going outrageously awry!
Dove Review
"Revenge Of The Bridesmaids" is a romantic comedy that will have you in stitches as Raven Symone and Joanna Garcia in the starring roles seem to make revenge fun. The two team up to help their friend Rachel as she struggles with being in the wedding of the love of her life as he is about to marry someone else.
Hilarity ensues as they plot to disrupt the small-town wedding of the year, and as they connive against the gold-digging Caitlin. The girls grew up together; nothing has changed including the snobbish Caitlin who always wants things her way, but little does she know to what extent the girls will go to make things right for Rachel. Although a funny film, due to content that puts it outside our guidelines Dove cannot approved it.
Content Description
Sex:
Comment regarding sex for money; comment about sex between actors; comment regarding "trimming the Hedge!"; talk about one-night stand leading to pregnancy; comment about sleeping with a man only after knowing him at least 3 weeks; many scenes of couple kissing
Drugs:
Main characters drinking wine, champagne; discussion regarding getting "tanked" at reception; woman grabs champagne bottle and drinks from it.
Nudity:
Discussion regarding large part on a statue; many scenes showing women's cleavage; women in short dresses.