My Future Boyfriend
DVD Release:
April 12, 2011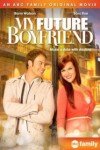 Synopsis
When romance novelist Elizabeth Barrett encounters Pax, a time traveler from a future where love only exists in history books, she finds herself in a story even more fantastic–and more romantic–than the fiction she creates. Pax has 48 hours to learn everything he can about love, and Elizabeth is happy to teach him … even if she thinks he's got a screw loose. Together, on the famous streets of New Orleans, the novice and the expert will make new discoveries about love, but will theirs be able to stand the ultimate test of time?
Dove Review
"My Future Boyfriend" is an out-of-this-world romantic/time travel story that really works. The two leads are perfectly cast and are a good reason this is an enjoyable movie. Sara Rue plays Elizabeth Barrett and Barry Watson is 497 or, as he comes to be called, Pax.
The year is 3127 A.D. and Pax finds some old currency, vintage 2012. He also finds a paperback book titled "Forbidden Love," written by an author named Elizabeth Barrett. Pax is intrigued because his current society has come a long way in human behavior, even getting rid of anger, so he does not understand the concept of "love." He decides to take a time-travel journey to 2011 and meet Elizabeth Barrett. In New Orleans 2011, Elizabeth is a reporter and has just completed her first novel titled, of course, "Forbidden Love." She has been dating a man named Richard Babcock, having met him when he picked up her hat that a strong New Orleans wind had blown off back in 2010. When he arrives, Pax meets Elizabeth and is forthright with her, explaining that he is from the future. He has a 48-hour window to learn about love. She is intrigued at his obviously crazy behavior, and her editor wants her to interview him about the future. She does and, of course, sparks fly between the two from the start.
Pax does things like dance oddly to blues music, shaking his head to the side in a side-splitting way. He is innocent to the ways of the world in 2011. Elizabeth, despite herself, continues to be drawn to Pax, even when he is arrested for using counterfeit money. The money he brought from the future is good, but he brought it back to the year 2011 and it is 2012 money!
There is a neat little twist at the end of the movie. This is a unique take on a romantic theme and works very well. We are more than happy to award "My Future Boyfriend" our Dove Seal for ages twelve plus. It is imaginative, funny, and filled with hope and warmth.
Content Description
Violence:
Man is punched; cars collide; dart gun held on man; man is hit in the neck with a dart that makes him groggy.
Sex:
Kissing by couples; mention of interest in sex; man from the future says he has never heard of the words "lust" and "sex" and "love" before; joke about the book title, "Forbidden Love," and a man says "it sounds dirty;" woman told that life is started in labs in the future says she can't tell her readers there is no sex in the future; an "adult channel" comment; a "making out" comment.
Violence:
Man is punched; cars collide; dart gun held on man; man is hit in the neck with a dart that makes him groggy.
Drugs:
Few drinking scenes in a bar and at a restaurant including champagne; sign that says "Rum Bayou."
Info
Reviewer:
Edwin L. Carpenter