Jim Hensons: The Christmas Toy
DVD Release:
October 8, 2013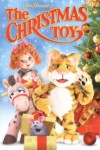 Synopsis
Celebrate the thrill of Christmas with Jim Henson's award-winning film "The Christmas Toy." This critically acclaimed adventure takes place on the night before Christmas–when all of the toys magically come to life. But when Santa delivers his presents, some of last year's toys are fearful of being replaced. Lead by Rugby the Tiger, the old toys venture from the playroom to meet their new friends under the Christmas Tree. Experience the magic of Christmas in this classic Jim Henson adventure filled with fun, music, and laughter.
Dove Review
"The Christmas Toy" is a heartwarming and wonderful movie sure to bring happiness to kids and parents alike. The toys are preparing for Christmas when the toy bear reminds them that new toys will be coming to their community and the children will be playing with them. One doll, Apple, used to be the favorite until Rugby the Tiger was given to young Jamie last Christmas. Now Rugby is concerned that he might be replaced in Jamie's affections. So Rugby hatches a plan to open Jamie's present and hide there so that he will be a present to her all over again! The toy he finds, Meteora, the queen of the asteroids, doesn't like that idea.
The songs and characters are delightful, and the movie features a mixture of mostly puppets with a few humans too. One of the movie's themes is highlighted in the words of one song: "Try the impossible, for if you do, you can make the impossible come true." "The Christmas Toy" will delight both parents and kids. This one has earned five Doves from us and our Dove Seal for all ages.
Info
Reviewer:
Edwin L. Carpenter