Never Alone
DVD Release:
May 12, 2015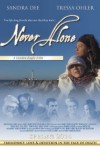 Synopsis
Two friends Jen and Lena meet as children and make a pact to be life-long kindred spirits but eventually drift apart due to lifestyle choices. Jen becomes the tough, smooth, "got it all together" business woman intent on making the bucks and living the good life, single and in charge. Lena, on the other hand, is the "good girl" choosing religion, marriage and the suburbs only to find herself shackled to a possessive, self-absorbed husband who tries to control her every move and thought while doing as he pleases. The two friends re-unite when Lena is diagnosed with cancer and is told she has less than two months to live. Feeling alone and frightened she remembers the long ago pact made with Jen that she would never be alone. Lena calls Jen and the two women pick up their friendship where they left off with a renewed love and devotion fired by Lena's illness. Lena's dying wish is to take one last trip with Jen to their childhood neighborhood by the ocean but getting Lena out of the overbearing and selfish control of her husband Dave proves to be far more difficult than even smooth, aggressive Jen could have imagined. Dave and Jen become arch enemies fighting over Lena's right to die with the dignity of her own decisions. Jen's emotions are even more complicated by Lena's faith in God which Jen finds frustrating and childish in the face of her empty life and present illness; after all, if God's so good why have her choices lead the naive Lena to a miserable marriage and premature death? Eventually Jen does succeed in escaping with Lena and the women make their way to the beach where childhood memories and life long decisions must be re-examined in the light of personal choices and life's ultimate end. Never Alone is the story of the tender love of two woman grappling with their own morality and the reasons for existence in a world that's never fair.
Dove Review
This is a movie about hope! Lynna (Tressa Ohler) is a middle-aged woman who learns she is dying of cancer. She contacts her childhood friend Jen (Sandra Dee), whom she hasn't seen in a while. Jen comes to visit and it's a good thing. Lynna's husband Dave (Paul Presly) is a jerk, bad-mouthing her and acting as if she should continue to wait on him despite her illness.
Jen has a hard time understanding how Lynna can be a Christian. In Jen's mind God has abandoned Lynna, and Jen shows anger at God, expressing her unhappiness to Him. Yet the tide turns and later, near the end, when Lynna is a bit discouraged, Jen finds God and soon the situation is reversed and she encourages Lynna. Ultimately, they both realize that God is always with us and we are never truly alone.
We are pleased to award this movie our "Faith-Friendly" Seal for ages twelve plus. It does a good job looking at that big question: Why? It features Scripture to help answer the question.
Content Description
Sex:
It is said that a husband has been unfaithful to his wife and he boasts that he can always find company.
Info
Company:
CMD Distribution
Reviewer:
Edwin L. Carpenter