Iesodo: Kindness
DVD Release:
September 8, 2015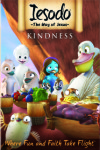 Synopsis
The popular series continues with "The Greatest is the Least," in which sisters Mary and Martha are aflutter as they prepare a special feast for Iesodo and his flock. In the midst of the preparations, Iesodo shares the value of serving others.
In "The Good Pigeon," the Cypress Tree is on lockdown! Unwelcome pigeons have arrived at the lake and the flock is feeling defensive. Iesodo shares the story of The Good Pigeon, who selflessly comes to the aid of Sandy the Partridge.
Dove Review
Iesodo, that beautiful white dove, is here once more to teach all the birds the importance of kindness to others and those closest to you.
"The Greatest is the Least" is a story about being friends to everyone and doing the best you can while focusing on the good things and time you can spend with your friends. In "The Good Pigeon," Iesodo teaches the birds about the gift of sharing and helping others no matter who they are. Iesodo is an allegory of Jesus in the bird world; his teachings are faithful and educational. Everyone in the family will love this series, plus the wonderful music, as each episode includes important life lessons. This is a great animated series and we are pleased to award Iesodo the Dove "Family-Approved" Seal for all ages.
Info
Company:
Capitol Christian Distribution