Olivias Island Adventure
DVD Release:
July 1, 2015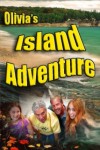 Synopsis
Olivia comes home from school and decides that she is bored and has nothing to do. When her big sister comes home, they decide to use their imaginations to go on an Island Adventure. They run into a little princess who has washed up on the unfamiliar island after a hurricane. She needs help returning to her home and father (King Huli Camuli). All of the girls work as a team to get the little princess back to her island. Along the way they lift a curse put on all of the islands, meet friendly natives, and get captured by Captain Cranky and his mean boys. Eventually they get the princess back home. The King is so happy to have his daughter back that he makes Olivia a princess as well.
Dove Review
Olivia and her family use their imaginations to go on a trip to the tropical islands. With songs and a lot of adventures, the foursome find themselves in trouble with the residents of the islands. Olivia loves to sing and finds a way to help not only the islanders but her group as well with her songs. She discovers that helping others is fun as long as you do it out of the goodness of your heart.
This is a comedy filled with fun, music, laughter and lessons about how using your imagination can take the boredom out of anyone's life. It is a wholesome and entertaining movie that everyone will enjoy. There is also a good lesson about eating bananas and their importance. We award the Dove "Family-Approved" Seal for all ages to "Olivia's Island Adventure."
Content Description
Nudity:
Teenage girl in a bikini top with deep cleavage; young girls in bathing suit tops; bare chested man; girls' bare midriffs.