Jacobs Ladder: Volume 1
DVD Release:
February 3, 2004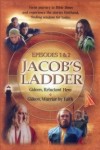 Synopsis
The "teenpack" is looking for adventure when they discover a mysterious old lighthouse and the even more mysterious keeper, Rafael. Through the lighthouse , the young teens are transported to Bible times where they interact with timeless characters and learn of a loving God who cares for His people through all the ages. These action-packed , top quality dramas are geared for youth ages 10-15, but are great for the whole family or for classroom use. Creative, easy-to-use pdf study materials are included to help young teens apply the faith-building lessons to their lives.
Dove Review
"Jacob's Ladder," collection features several well-known Bible stories. We are pleased to award our "Faith-Friendly" Seal for ages 12+ to these episodes. It nicely combines the history of the Bible with the youth of today!
Episode 1: "Reluctant Hero," it is revealed that the Hebrews have ceased following God and so God's divine hand of protection is removed and the Midianites conquer Israel. The Israelites allow a woman of divination named Molakee to frighten them and encourage them to worship Baal and Asherah, false gods. Gideon has enough and encourages people to let go of their fears. The altar to the false goddess Asherah is destroyed. Episode 2: "Warrior by Faith," Gideon puts out a fleece and asks God to make it wet and keep the ground dry so he will know God wants him to lead the army against the Midianites. Later, Gideon reverses the test and God allows the fleece to be dry but the ground to be wet. Gideon takes on the Midianites with an army of 300 men and a strong faith in God. Paul Amos does a very good job in the role of Gideon. He is believable and sincere Episode 3: The group of teens are transported back to the time of Ruth to help out. One of the teens, a girl named Jessica, acts as a cousin. We see the dry lands of Canaan and Naomi and her husband Elimelech moving with their two sons to Moab. While there the sons marry Ruth and Orpah. However, tragedy strikes and Elimelech and his two sons die, leaving Naomi with two daughters-in-law. Episode 4: Orpah moves on, but Ruth insists on following Naomi back to Canaan, telling Naomi that she will become part of her people and believe in her God. Ruth meets Boaz, a landlord that takes a liking to her and leaves blessings from the gleaning on the ground for Ruth. Will he eventually marry her, or will an elder relative get in the way? Episode 5: "The Invitation, Samuel enters God's service after his mother, Hannah, tells of her promise that if God gave her a child she would give that child back to the church. God calls and Samuel willingly answers and follows Him. Episode 6: "Samuel's Destiny—Part 1, Samuel demonstrates his wisdom by encouraging Eli, the High Priest, to be more firm with his sons, Hophni and Phinehas, who are straying from God. Episode 7: "Samuel's Destiny—Part 2," Samuel hears God's voice, and Eli encourages him to listen and obey if God speaks to him again. When tragedy strikes, the people look to Samuel, and finally to God, to protect them from their enemy. Episode 8: "A King for the Hebrews," and ," in the series Jacob's Ladder focus on Israel's desire for a king, and the anointing of that king by the prophet Samuel. Samuel warns the Hebrews against selecting a king, but they insist and God decides to give them a king in a man named Saul. Episode 9: "Saul Takes Charge, Saul begins to enjoy the power and glory of being king so much that he stops seeking God. By the end of the episode, Saul's son Jonathan weeps for the hardened heart of his father, and Samuel tells Saul that his time as king won't last much longer.
Episodes 10 & 11: "The King Needs Help" and "Death Waiting." These episodes continue the story of David. Saul plans to kill David, even knowing that David will succeed him as king.The episodes are introduced by Rafael, a middle-aged man from modern times who sends a group of young people back to Biblical times to help. In these episodes we see David playing his harp and walk with him during his near-death escapes before ascending the throne of Israel.
Episodes 12 & 13: Titled "David on the Run" and "A New King," we see the events leading up to David's crowning as king. David survives Saul's plot to kill him, and endures while King Saul allows another man to sleep with David's wife. David's path to the throne is difficult and full of battles and danger. King Saul, in his desperation to see David killed, seeks out a woman of divination. He has the woman contact the deceased prophet Samuel and asks about his own future. Saul does not like Samuel's answer.
Content Description
Violence:
A few battles including swords; people struck with sticks; fights; huts set on fire; a threat to break Gideon's neck; an idle threat by an impatient man to cut kids' throats: fruit thrown at people; flour thrown on people; Boy is kicked in the face; dishes are thrown; boys twist another boy's ear; boys fight; boys are "zapped" when hurting Samuel; boy is given light slap to the head; battle scenes with swords and punches; Man grabs woman's arm; boy thrown in lake; character throws javelin intending to kill a man; fist fight with no blood; man tries to kill another man with spear; assassin is hired to kill man; boy is chained; Saul tries to kill David; Saul throws spear in anger; fight without blood; man is shoved; temple burned; battle; punching and fighting
Sex:
Man kisses woman against her will but quickly leaves; kissing between bride and groom; Mentioned that Saul allowed another man to sleep with David's wife.
Language:
Old Fart-1; Liar-1; Chicken-1; "Smelly Hebrews"-1; "Coward"-1; "Idiot"-1;Useless-1; Good for nothing-1; Hebrew Dogs-1; "Oh God" said in prayer
Violence:
A few battles including swords; people struck with sticks; fights; huts set on fire; a threat to break Gideon's neck; an idle threat by an impatient man to cut kids' throats: fruit thrown at people; flour thrown on people; Boy is kicked in the face; dishes are thrown; boys twist another boy's ear; boys fight; boys are "zapped" when hurting Samuel; boy is given light slap to the head; battle scenes with swords and punches; Man grabs woman's arm; boy thrown in lake; character throws javelin intending to kill a man; fist fight with no blood; man tries to kill another man with spear; assassin is hired to kill man; boy is chained; Saul tries to kill David; Saul throws spear in anger; fight without blood; man is shoved; temple burned; battle; punching and fighting
Drugs:
The drinking of wine in a few scenes; man attempts to poison wine but is caught; "I want a beer" comment; priest's sons drunk in a scene
Other:
False gods Baal and Asherah are worshipped; woman makes smoke without fire by her divination and makes threats against Gideon and those who don't follow false gods; woman declares God is dead but she learns otherwise; Tension between characters and with Moabites and Hebrews; death and grief; man steals from woman; men steal food; Boy is laughed at in dream; someone has pulled up vegetables in a garden; tension over a young woman having to marry a man she does not love; two men claim the same foal and Samuel brings peace to their disagreement; man steals money; stealing happens a few times; sons disrespectful to father; mention of other gods;Tension between father and son; son weeps for the hardness of his father's heart; man is deceitful;Witch uses her powers to contact the departed Samuel; tension between characters; king is deceitful and plans murder
Info
Company:
Gateway Films / Vision Video
Reviewer:
Edwin L. Carpenter