The Great Awakening
DVD Release:
July 15, 2008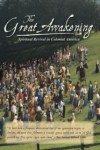 Synopsis
Through the use of extensive source material, unique still images, and interviews with history scholars, this documentary traces the origins of the Great Awakening and follows its progression throughout the colonies.
Dove Review
"Great Awakening" documents the history of the Protestant evangelical revival that took place in American history. Peace finally reigned in 1688 – both religious and political peace. Many came to America for that religious freedom, and then eventually gave up Puritanism for worldly pleasures and success. In the 17th century, the "Halfway Covenant" offered church membership to families and partial membership to their children and grandchildren. It had strict requirements and was established to help families who were drifting from the faith find their place within the church again. Some people who had immigrated to America questioned why their families even relocated there, as worldliness overcame them. During this time, American colonies were established, and slavery was abolished.
The Great Awakening was a widespread religious revival that urged individuals to return to their faith and find salvation. Many great philosophers emerged from this period in history. This is an enlightening documentary and a historical reminder of the beginnings of evangelical Protestantism in America. This film earns the Dove "Faith Friendly" Seal of approval.
Info
Company:
Gateway Films / Vision Video
Starring:
Bill Apelian; Brenda Schoolfield,
PhD.
; Rachel Larson,
PhD.
; Ray St. John,
PhD.
; Robert Vincent,
PhD.