Christmas at Cartwright's
DVD Release:
October 6, 2015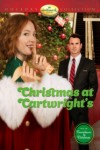 Synopsis
With the holiday season at hand, single mom Nicky Talbot is unemployed and struggling to afford a nice Christmas with her eight-year-old daughter. Hearing that Cartwright's Department Store is hiring temporary holiday help, Nicky rushes in to apply but is rejected by Senior VP Fiona Aldrich, who considers Nicky a threat to the relationship she hopes to have with Bill, a charming and handsome store manager. In a whimsical turn of events, Harry Osbourne, who claims to be a consultant from corporate headquarters, encourages Nicky to dress up and begin working as Cartwright's store as Santa Claus. With the magical help of Harry, Nicky keeps the job, but nobody knows Cartwright's Santa Claus is a woman. Will she be able to keep her job if her secret gets out?
Dove Review
"Christmas at Cartwright's" is a delight for the entire family, and not just at Christmas time. The story is about love, forgiveness, and working through problems. Alicia Witt gives a wonderful performance as Nicky Talbot, an out-of-work single parent who lands a job as a department store Santa, quite accidentally…or was it fate? The kids love her, and she has a knack for playing the bearded fellow. She meets one of the department managers, Bill (Gabriel Hogan), and the chemistry between them is apparent. But how does she tell him she is the department store's Santa when she isn't even supposed to have the job?
Nicky is terrific as Santa, as she speaks in a deep voice and delights the kids, figuring out what they want and making them feel good. A man named Harry Osbourne (Wallace Shawn) helps her out, calling himself a "Christmas consultant," but he looks like the angel that Nicky's daughter Becky (T.J. McGibbon) finds on a coin. This heartwarming film will get the entire family talking about the joys of Christmas and about making the right choices. We are pleased to award it our Dove Family Approved Seal for all ages. Enjoy "Christmas at Cartwright's" in your home!
Info
Company:
Hallmark Home Entertainment
Reviewer:
Edwin L.Carpenter