Story Keepers
Theatrical Release:
November 20, 1995
DVD Release:
November 20, 1995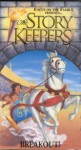 Synopsis
The year is A.D. 64 and in Rome, the church faces fierce persecution. Driven into hiding, Christians gather wherever it's safe. At secret meetings, they learn about Jesus of Nazareth. And their faith prospers – thanks to courageous "Tellers" who keep the stories of Jesus alive.
The Storykeepers takes you into the unforgettable world of the undergroung church. In this animated series, Ben the Baker, Helena, his wife, and thier "family" of young orphans, together with fellow first=century Christians, are braving the emperor Nero's fury for the sake of the faith.
Breakout!, Episode 1 of The Storykeepers, introduces you to Ben, Helena, Anna, Zak, Justin, and Marcus – and to Cyrus, a young street juggler. When Roman soldiers capture Cyrus, Ben and the children must save him. Packed with excitement and laughter, Breakout! heads for a hair-raising rescue in the Roman arena – with Ben's amazing stories paving the way. You will see and hear Jesus as he feeds the five thousand, shows God's kindness to Zacchaeus, and raises Jairus' daughter from the dead. You'll also cheer for the unexpected hero of the rescue, and the heart-warming conclusion of Breakout!
Info
Company:
Zondervan Publishing House