Two by Two: God's Little Creatures
Theatrical Release:
July 17, 2015
DVD Release:
August 25, 2015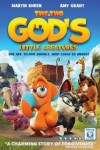 Synopsis
Featuring the beloved voices of Martin Sheen and Amy Grant, this film is the story of Noah's Ark like you've never seen it before! Get ready to ride the waves with Dave and Finny, a clumsy species left off Noah's list to board the Ark. With rough waters ahead, the father/son duo scramble to sneak onto the boat. Caught in all the excitement, Finny gets left behind and must embark on an incredible and harrowing journey. With the help of friends big and small, Dave must turn the Ark around to save his son in this heartwarming adventure of Biblical proportions.
Editor's Note: This film has been retitled and is now available as "All Creatures Great and Small"
Dove Review
The big flood is coming and the animals are gathering to board Noah's Ark. Dave and his son Finny have made the trip, but they are not on the list! Dave makes a plan and joins the others. Finny meets Leah and they explore the boat together, but the two of them are left behind while exploring the scaffolding outside!
These two know they have to get to higher ground. Leah, being a loner species, has to learn what friendship and teamwork is. Along the way they meet two more species who were also left behind. Meanwhile, Finny's dad and Lea's mom also learn to work together to find their children. A charming story of relationships, fitting in, forgiveness, teamwork, and caring about others even if they are different. Sometimes things are not always as they seem, and with love anything is possible. A lovable cute movie that the entire family can enjoy. We are proud to award this film the Dove "Family-Approved" Seal for all ages.
Info
Company:
Entertainment One Films