Noah's Ark
DVD Release:
September 15, 2015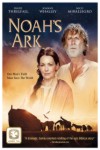 Synopsis
An angel instructs Noah, a farmer and family man, to build an ark in the middle of a desert in order to save both his family and the faithful few from a devastating flood. Noah's seemingly impossible quest tests his faith in God and in everything he believes. This obsession also leads to the fragmentation of his family, as they question their faith in their father.
Dove Review
"Noah's Ark" is a thought-provoking film, showing what might have logically happened behind the scenes of one of the greatest biblical stories ever told. David Threlfall does a wonderful job in playing the Noah of the Bible we have always imagined: a patient and kind man, dedicated, low key, but a determined sort of man. In just one scene, he falls out of character a bit when he is waiting on the rain God warned him would come, and he throws some wood at the ark in frustration. On the other hand, in a humorous scene, Noah says he doesn't argue with a man unless the man is wrong.
In another scene, others come to camp out near the ark before the rain, and a few join the family on the ark, which isn't exactly what happened in the biblical account, but the film is accurate to a great extent. It certainly features Noah getting the word from God to build the ark. It does include the story of Noah, his wife, and their sons and their wives. The animals also get on board before the great deluge hits them all. The conclusion, with the sign that dry land has returned, is also taken from the biblical text. Some of the family's experiences are imagined and retold in an artistic way.
The film contains some really nice moments. When a man says he believes man is God, Noah hands him a rose and says, "Have him make one of these." We are pleased to award "Noah's Ark" our "Faith-Friendly" Seal for ages 12-plus. This story of a man, determined to follow God no matter the comments or cost, is nicely portrayed on the screen.
Content Description
Violence:
Would-be robbers are punched and kicked; people mock Noah and throw food at him; man strikes another man.
Sex:
With crowded living quarters, an innuendo in which a wife tells her husband that something mentioned is not the only thing he will be waiting for; wife kisses husband's cheek; a couple discusses other places other than the house where they might make love and a suggestion for "doing it" in the barn; a man and his wife are heard laughing and it is apparent they are becoming romantic; man kisses woman at a tavern several times; husband and wife kiss; a comment about old men using young men's bodies to satisfy their desires, and the statement is a bit cryptic as to its meaning.
Violence:
Would-be robbers are punched and kicked; people mock Noah and throw food at him; man strikes another man.
Other:
When a discussion starts about what God requires, a wife jokes with her husband about God not being so needy; a legless man; a comment about some of the local people not believing in God; dancing at parties; an angel who appears to Noah tells him to build the ark; tension between characters, including a foster son Noah raised and whom Noah attempts to reason with; man thinks Noah is delusional; in one scene, Noah is frustrated while waiting on the rain, throws wood at the ark and demands of God, "Where are you?"
Info
Reviewer:
Edwin L. Carpenter