Hermie and Friends Series (13 Episodes)
DVD Release:
June 21, 2011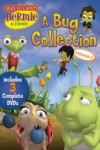 Synopsis
"Hermie & Friends" is an animated series of stories based on the adventures of a little caterpillar named Hermie and his best friend Wormie. Videos teach biblical principles for kids about love, faith, friendship, and other valuable lessons.
The 13 episodes include: Hermie: A Common Caterpillar; Hermie & Friends: Flo the Lyin' Fly; A Fruitcake Christmas; Stanley the Stinkbug goes to Camp; Hailey and Bailey's Silly Fight; Buzby and the Gumble Bees; Buzby the Misbehaving Bee; Milo, The Mantis who Wouldn't Pray; Webster the Scaredy Spider; Nutty Adventure; Hermie the Uncommon DJ; Hermie and the High Seas; Skeeter and the Mystery of the Lost Mosquito Treasure
Dove Review
This wonderful collection of "Hermie and Friends" tells great stories about a little caterpillar, before he becomes a butterfly, and his friends who tell of their love and faith in God. They teach young children and everyone in the family valuable lessons.
The colorful characters bring to life the bug world with problems many children face today. Hermie and his friends always have a special way, with the help of God and others around them, of finding a solution to the problems. Whether it is about being special, being different, following the rules, getting respect, not being greedy or always telling the truth, God will help conquer our fears and show us the way we should live our life. This encouraging series by Max Lucado will enlighten and entertain everyone in the family. Dove awards this series with the "Faith-Friendly" Seal for all ages.