12 Dog Days Till Christmas
Theatrical Release:
November 14, 2014
DVD Release:
December 15, 2015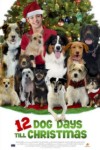 Synopsis
After his probation officer assigns him to an animal rescue shelter as part of his community service, a troubled teenager is forced to get into the spirit of the holidays when he is recruited to help find homes for 12 unwanted dogs before Christmas.
Dove Review
Jack has been in nine foster homes and has been in and out of trouble. This time, when his probation officer places him at an animal rescue to help out, he learns a few things about himself.
The rescue shelter is closing and many dogs need to be placed, otherwise they will go to county pound where they may be put down. Jack and Ryan, along with the others, try to come up with a plan to give all the dogs new homes before Christmas. Will their plan work, and will all the dogs be placed? Jack also learns that everything is changing around him, and he needs to have a plan for his life. This is an enjoyable Christmas movie that the entire family will enjoy. It shows that people can changem and there is enough love in the world for everyone, no matter how broken they may be. We are proud to award "12 Dog Days Till Christmas" the Dove "Family-Approved" Seal for all ages.
Content Description
Violence:
Young man sets sign on fire; young man throws things around in anger; dog gets hit by car off-scene but is okay
Violence:
Young man sets sign on fire; young man throws things around in anger; dog gets hit by car off-scene but is okay