Hero Quest
DVD Release:
March 8, 2016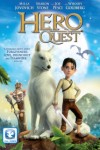 Synopsis
"Hero Quest" is a fairy tale about the grand life journey of a 10-year-old boy named Savva, who is devoted to help his Mom and fellow village people break free from the vicious hyenas.
Dove Review
Fairy tales are always whimsical, fantastical, and magical. Savva is a young boy who lives with his mother in a village that the white wolves once protected. But the wolves are all gone, due to a curse put on them. So the villagers have no protection unless they can find a brave person to help them.
The villainous hyenas are terrorizing the village, as they capture the humans to take them to be slaves for Mama Zho Zi, the vain ruler of the monkeys, apes and gorillas. Savva's mother hides him below their home to keep him safe, but he decides he has to save her and the rest of the village. To do that, he needs to find the magician who sent the white wolves away. On Savva's quest, he meets a white wolf that is willing to help him, because the wolf also wants to correct the terrible event that led to the wolves' banishment. Along the way, the two meet a variety of characters who also are willing to help for their own reasons. "Hero Quest" is a charming animated movie about forgiveness, love, friendship and teamwork. It will entertain the entire family. We award this film the Dove "Family-Approved" Seal for all ages.