Stars Fell On Henrietta
Theatrical Release:
December 31, 1996
DVD Release:
December 31, 1996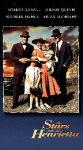 Synopsis
A curious old man searching for oil in Depression-era Texas takes his last shot at glory on a young family's farm. A nostalgic drama produced by Clint Eastwood.
Dove Review
Believing he has finally hit the big one, an oil driller has to overcome several obstacles in the Depression era. Celebrates the American spirit. Remarkably well acted, written, and photographed. A real pleasure. And it's a relief to find a '90s film that doesn't bombard your senses with objectionable material.
Content Description
2 profanities and a few expletives, but very mild compared to other new releases; a bordello is featured in one brief scene, but there are no sexual situations; thievery but the money is returned; very brief violence
Info
Reviewer:
Phil Boatwright