Star Paws
DVD Release:
December 13, 2016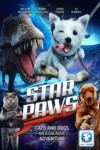 Synopsis
The battle between Cats and Dogs goes Galactic! Adventure Cat and his evil kitty army hope to snatch a magical galactic bone that will give them the power to take over the entire galaxy. It's up to an elite group of space dogs, headed by the intrepid General Ruff (William McNamara), to beat Adventure Cat to the bone.
Dove Review
Adventure Cat is in space and wants to take over the world. He must find a very special dinosaur bone that will help him accomplish his goal. If he gets the legendary bone before the K-Nine team, Dr. Bones and Shortstack, Adventure Cat will rule.
However, Dr. Bones and Shortstack want to get the bone back to where it belongs, with the K-Nines. With a little help from their time machine and the ability to become invisible, they travel back in time to when dinosaurs roamed the earth. Dr. Bones teaches Shortstack facts about different dinosaurs as they adventure through the land in search of the Legend Bone. "Star Paws" is a very interesting story that is filled with lessons about dinosaurs. We award it the Dove "Family-Approved" Seal for all ages.
Info
Company:
Ruthless Studios