Braceface – Season 1
DVD Release:
October 5, 2005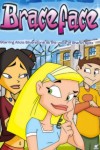 Synopsis
An awkward young girl with magical braces tries to survive 8th grade and, eventually, high school.
Dove Review
"Braceface" has 13 episodes that tell the story of a 13-year-old girl named Sharon and her friends. Kids at that age deal with many emotional issues in middle school, and Sharon thinks her world has been turned upside down when she has to get braces.
This collection gives many lessons to middle-school-aged children. Each episode carries a lesson about events that happen in their lives. It is an age where relationships change, teens and pre-teens are dealing with transformations in their growing bodies and minds and they're learning how to treat others outside and within their own families. Sharon and her friends' adventures show how influences at the age of 13 are not always good—but also not always bad. Their thoughts about self image change when getting braces or reading a friend's diary is not the right thing to do (because what is read may not be about them). There is lesson about doing things that are not right —like stealing or driving the car when not of age, or even trying to get your parents back together after a divorce—and dealing with the consequences from that choice. There are so many things that are difficult for kids at this age, and this series does an excellent job of bringing them to light for discussions in families. Subjects such as changes in the family dynamic when there is a divorce, the natural physical and emotional changes in girls and boys as they mature; trying your best, and even helping friends—or enemies—when they need help, are just a few of the topics that can be discussed. This is a fun and educational series for kids 12-plus because of the topics that it brings up for this age group. We are proud to award the Dove Family-Approved Seal for ages 12-plus to "Braceface – Season 1"
Content Description
Violence:
Girl blames another for her dolls having heads torn off; stealing something without getting caught, but when found out there are consequences; driving a car when underage, having an accident and trying to get away with having someone else take the blame;
Language:
Name calling such as "brace face", stupid, idiot; bozo, sports wimp, etc; use of OMG and oh my gosh are used many times throughout the series; calling someone a baby; holy moly;
Violence:
Girl blames another for her dolls having heads torn off; stealing something without getting caught, but when found out there are consequences; driving a car when underage, having an accident and trying to get away with having someone else take the blame;
Other:
Girls in competition over a boy; reading someone else's journal or diary; getting a wrong impression of someone; making someone out to be something they are not; discussion regarding the natural changes in girls of becoming a woman with the "time of the month"; trying to get between parents when they start to date after a divorce; being responsible when babysitting; siblings arguing;
Info
Company:
Nelvana International Limited
Starring:
Alicia Silverstone (Sharon Spitz), Marnie McPhail (Maria Wong)