Pippi Longstocking – Season 1
DVD Release:
February 11, 2003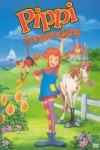 Synopsis
Pippi is separated from her dad on the stormy seas, and now she lives her life the way all children wish they could: in charge of her own destiny.
Dove Review
Pippi Longstocking is an amazing girl with special talents. She has traveled the world and has lots of stories about wondrous things and unbelievable people. It is never boring when Pippi is around. She now lives at Ville Villekulla along with a horse named Horse and a monkey called Mr. Neilson. She has also made friends with Tommy and Annika, the children who live down the road.
This collection of 26 episodes takes the viewer on Pippi's adventures at sea with her father Captain Longstocking, Tommy and Annika; being shipwrecked on an island with the brother and sister; even entering a horse jumping contest or a snow ski race. The adventures with Pippi are never dull, even when she stops criminals from trying to steal her gold or faces a man who thinks he can buy her house. No matter what adventure Pippi encounters in each episode, there is something new to learn! Pippi also teaches how important it is to treat others with kindness and help those in need. We award the Dove Family Seal for all ages to this animated series of Pippi Long Stocking.
Info
Company:
Nelvana International Limited