Book of Mysteries (Book)
Book Release:
September 6, 2016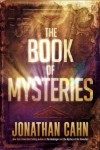 Synopsis
Johnathan Cahn's "The Book of Mysteries" is compelling, creative, and well-written. Cahn introduces his book by telling the reader he has been in the company of a teacher, a wise man with a school in the Middle East who has revealed all sorts of mysteries contained in scripture. This fictional device helps Cahn craft each of the 365 devotional entries in "The Book of Mysteries" as a conversation between the teacher and his student. It worked well; I was continually engaged and often found myself shaking my head in amazement at the intricacy of God's plans.
Although I've been a Christian for many years and have studied the Bible with many different instructors, by reading Cahn's latest book, I discovered a great deal I didn't know about the connections between the Old and New Testaments, as well as the "secrets" contained in Jewish traditions. Cahn was a deft instructor, pulling me along as I became more and more eager to learn about how scripture, world events, Jesus' life, and the lives of biblical characters all fit together.
Cahn's knowledge of ancient languages and his Jewish background combine to give the volume a depth many devotional books lack. At the same time, his conversational writing style makes "The Book of Mysteries" accessible and entertaining. Families might consider reading through the book together, discussing one entry a day for a year. Each devotional contains additional scriptures for further study, and Cahn has extra content pertaining to the book's many subjects on his website.
Info
Industry Rating:
Not Rated